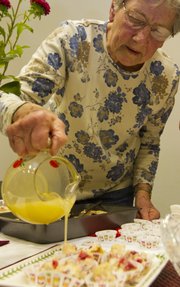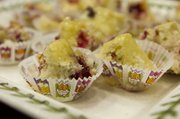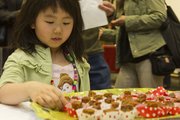 The Lawrence Public Library had an unusual offering to visitors Sunday afternoon: dessert.
Cranberry desserts, to be exact. The recipes offered were the five finalists in the library's Cranberry Creations contest.
The library hosted the event to draw excitement for "An Evening with Susan Stamberg," which will feature the National Public Radio personality. Stamberg is known for her family's cranberry relish recipe, which she shares with listeners every holiday season.
The event was judged by Charles Ferruza, a food critic for the Kansas City Pitch, Megan Stuke, "Flying Fork" blogger for Lawrence.com, and Ken Warren, chef at Hy-Vee in Topeka. There was also a "people's choice" category.
Dozens of people sampled the sweet cranberry treats, washing them down with ice-cold water. The bakers stood close by and talked about their creations.
Karen Whipple, Baldwin City, made cranberry and orange cream scones. Although the scones are a favorite among of her family, she was still surprised to learn she was a contest finalist.
"The recipe is 20 years in the making," Whipple said.
To her left, Emily Mueller, Lawrence, was handing out her cranberry shortbread cakes. Her dessert consisted of a sweet, yet refreshing cranberry jam sandwiched between two soft pieces of cake, which resembled sugar cookies.
"I make it for a friend's birthday every year," Mueller said. "I figured it would be perfect for this."
Next on the menu was Lynn Chase's honey cranberry bread, a wholesome and savory dish.
Judy Keller, Lawrence, used whole cranberries and an almond crust in her tart. She found her recipe in an old Martha Stewart cookbook and made a few changes. The changes paid off because she was the runner-up of the contest.
And the winner was Mary Getter, Lawrence, with her cranberry cake with hot butter sauce. "If it says butter in the title, I'm gonna love it," said Stuke, a judge in the contest. "It was sweet, rich and had a great texture."
Getter said she found the recipe in an "old, tattered" cookbook from the 1960s. She dug up the recipe, which she had never made, at the behest of her daughter, who works for the library.
For her culinary prowess, Getter won two VIP tickets to Stamberg's event and a gift bag worth $250. Oh, and her dessert will be served at the VIP afterparty, which Stamberg will attend. Getter said that part was "pretty cool."
The event will be March 13 at the Lied Center, 1600 Stewart Drive, and costs $25 for adults and $10 for students. Entry to the event and the afterparty costs $50. All proceeds benefit the Lawrence Public Library.