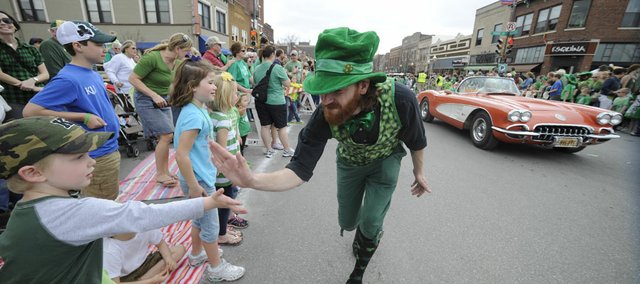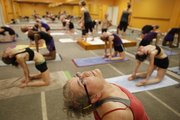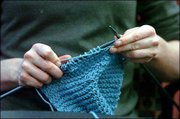 The words "March Madness" signal nirvana for basketball fans in these parts.
For nonbasketball fans, those words can portend boredom and emptiness, when all the usual cultural hubbub is supplanted by nothing but nets. But not for long.
Here are 16 fun, interesting and educational alternatives to the "madness" of the month that take place during the Big 12 and the NCAA basketball tournaments.
Get down to business: One of the nation's foremost experts on business ethics, Dr. Patricia Werhane of DePaul University, gives a free lecture, "Globalization and Its Challenges for Business Ethics in the 21st Century," at 6 p.m. Thursday in the Woodruff Auditorium, Kansas Union, as the 2012 Walter S. Sutton Lecture for the Kansas University School of Business.
Cook up the most important meal of the day: The Merc presents a class, "Build a Better Breakfast: Make-Ahead Plans," to fortify for the weeks ahead. Learn how to make granola bars, homemade apple sauce and breakfast burritos, among other things. 7 p.m. to 9 p.m. Thursday at The Merc. Registration required. Cost: $18 Merc nonmembers, $16 seniors and Merc members.
Curl up with a book: Lawrence Public Library presents family story time with stories and a craft for families with children ages 3 and up. 7 p.m. Thursday and March 15 at the library. Free, no registration required.
Take a deep breath: Breathe Holistic Life Center offers a free community yoga class for all levels every Friday evening. 7:30 p.m. to 8:45 p.m. March 9, 16, 23 and 30 at 1407 Mass. Wear comfortable clothing, no registration required.
Never grow up: Lawrence Arts Center presents Youth Ballet Company performances of J. M. Barrie's "Peter Pan." Opens at 7 p.m. Friday at the arts center, 940 N.H. Other shows: 2 p.m. and 7 p.m. Saturday, and 2 p.m. Sunday. Tickets are $7 for adults and $5 for students/seniors, available at the Lawrence Arts Center.
Weave a tale: "Story Slam: The Audience as Performer" encourages participants to prepare a five- to seven-minute story to share with a live audience. Or just come and listen to others' interesting anecdotes. Music starts at 7 p.m., stories start at 7:30 p.m. Friday at Lawrence Arts Center. Donations encouraged.
Hang with thespians: University Theatre at KU presents Tennessee Williams' "Summer & Smoke" at the Crafton-Preyer Theatre in Murphy Hall, 7:30 p.m. Friday and Saturday. Tickets are $18 for the public, $17 for seniors and KU employees, and $10 for students.
Far-out bowling, dude: Student Union Activities at KU presents Cosmic Bowling at Jaybowl in the Kansas Union. 10 p.m. to 1 a.m., Friday and Saturday. Free.
Knit your way through March: The Yarn Barn presents a class, Beginning Knitting: Basics and Beyond, for ages 16 and up, with five sessions, beginning 1 p.m. to 3 p.m. Saturday at Yarn Barn, 930 Mass. Some supplies and a book required. Cost is $22.50. Registration required.
Jam with some folks: West Side Folk presents soprano Connie Dover, a singer, poet and composer performing traditional music of Scotland, Ireland and the American West, with fiddler Douglas Goodhart and guitarist Kelly Werts, at the Pavilion of the Lied Center. 7:30 p.m. Saturday. Tickets are $23.
Let the winds blow: Imani Winds, a Grammy-nominated woodwind quintet from New York known for its performances of contemporary compositions, joins the KU Symphony Orchestra for an "Informance" at 3:30 p.m. March 15 in Murphy Hall. Free.
Rock on: The Geology Colloquium Series presents Dr. Yildirim Dilek, distinguished professor of geology at Miami University (Ohio), for a lecture, "Cenozoic Tectonics and Chemical Geodynamics of a Continental Collision Zone: Anatolia - Tibet Connection," 4 p.m. March 15 in 103 Lindley Hall on the KU campus. Free.
Escape to Turkey: The visually ethereal Turkish film, "Kosmos (Cosmos)," directed by Reha Erdem in 2010, will be shown in Turkish with English subtitles, presented by KU's Center for Russian East European and Eurasian Studies. 7 p.m. March 15 in 318 Bailey Hall on the KU campus. Free.
Love a parade: St. Patrick's Day falls on a Saturday this year, which likely may increase the revelry. The 25th annual Lawrence St. Patrick's Day Parade makes its way down Mass. Street starting at 1 p.m. March 17 at South Park.
Take in some local tunes: Heartscape Landbreak and Hospital Ships perform at the Nine Forty Live concert at 7:30 March 17 at the Lawrence Arts Center. Tickets are $10 at the arts center and Love Garden Sounds, 822 Mass.
Seeking solace from basketball every day? The Bourgeois Pig, 6 E. Ninth St., a coffeehouse and bar in downtown Lawrence, is one of the few local places that does not bring in a TV during March Madness. And with a full range of coffee drinks and alcoholic beverages, there is something for everyone — except, maybe, basketball fans.
More like this story on Lawrence.com