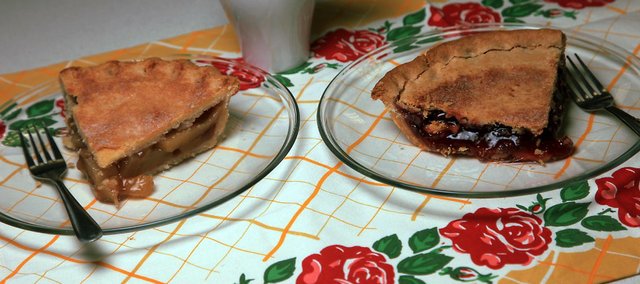 Next week has a holiday on the calendar, though not the official one (St. Patty's Day) or the unofficial one (tip-off of the NCAA Tournament).
No, it's the one you probably don't celebrate, even though you have a very good reason to mark the date on the calendar: pie.
Pi Day is March 14, which makes sense if you dust of the cobwebs and think back to math class. Pi is an irrational number that represents the relationship between the diameter (width) of a given circle and the circumference (the full distance around the circle). When proved out, Pi has more than a trillion digits past the decimal, but to make things easy on those of us who aren't math geniuses, it's typically shortened to 3.14.
Three. Fourteen. March 14th. Get it?
And not only is the day celebrated by math nerds everywhere for its numerological kitchiness, it's the perfect excuse to eat some pie. Especially if you happen to want to attend Lawrence's big holiday party, the Pi Day Festival at Theatre Lawrence, 1501 N.H. The festival will have a Pi recitation contest, math humor, music, and, of course, pie, in the form of a pie baking contest.
To get you thinking about pie, we thought we'd explore the science behind the perfect pie. Because, in a way, pie baking has its own mathematical elements: A baker's ratios must be spot-on to create a perfect pie.
The first X factor? The crust. It must be flaky but not dry, stretchy, but not over-moist. It's such a head-scratcher that even professional bakers have trouble with it. Case in point: Don Walsh, owner of MarCon Pies in Washington, Kan., says even the experienced workers he has at his bakery have to deal with temperamental dough.
"If the dough doesn't appear to be right, you can't rework it. It's got to be thrown away," says Walsh, whose bakery churns out 500 pies per day, some of which end up in Lawrence at both Hy-Vee stores and The Merc. "We throw away a lot of dough every day."
Nikki Overfelt, former Go! Columnist and current professional baker operating out of Kansas City, Mo., says even though she had a go-to recipe for crust (her mother's), she'd still end up piecing together crusts within the pie pan.
"Practice helps. I realized after becoming frustrated and piecing together a lot of crusts that my dough was too dry, which is why it kept breaking into pieces," says Overfelt, who adds that if you're serious, purchasing a pastry cloth and rolling pin cover will help you out. "Adding a little more water worked wonders. And if you add too much water, just add a little more flour. Just don't give up."
As for the filling? If you like pie, but have never made one before, a fruit-filled Pi Day pie is definitely the way to go, says Overfelt.
"I'd say just try different recipes and find what you like. Then as you get more comfortable, adapt the recipes to your taste. Fruit pie fillings are basic with few ingredients, so they are simple to make and easy to play around with," she says. "One example is my great-grandma's lemon pie recipe. I made it, but it didn't have a very strong lemon flavor. So I plan to play around with it."
Pie plus play? Sounds like the perfect equation for an infinitely yummy Pi Day.
RECIPES
Strawberry-Blueberry Pie (Crimson and Blue-Berry Pie)
2 cups sliced strawberries
2 cups blueberries
1 cup sugar
5 tablespoons flour
1 teaspoon cinnamon
1/2 teaspoon salt
1 tablespoon butter
Mix strawberries, blueberries, sugar, flour, cinnamon and salt together. Pour into pie crust. Dot with cut-up butter. Seal with top crust. Slit the crust for ventilation. Bake at 425 degrees for 35-45 minutes. Yield: 1 pie filling.
My mom's pie crust
5 cups flour
1 pound lard (or substitute with your favorite fat, i.e. shortening or butter)
1 1/2 teaspoons salt
1 teaspoon sugar
1 egg and water to equal 1 cup
Mix flour, salt and sugar. Cut in fat. Mix in egg and water slowly and form dough. Yield: 5 pie crusts
— Recipes from Nikki Overfelt, adventuresinbaking.posterous.com
Butterscotch Angel Pie
Meringue Shell
3 egg whites, room temperature
1 teaspoon vanilla
1/4 teaspoon cream of tartar
3/4 cup sugar
Filling
1 3/4 cups half and half
1 egg plus 1 yolk
3 tablespoons cornstarch
1/4 cup butter
1 cup firmly packed dark brown sugar
1 1/2 teaspoons vanilla
Garnish
1 1/2 cups whipping cream
2 tablespoons sugar
1 teaspoon vanilla
1 1/2 cups fresh raspberries
Heat oven to 275 degrees. Lightly grease and flour 9-1/2-inch (deep-dish) pie pan; set aside.
Beat egg whites, 1 teaspoon vanilla and cream of tartar in medium bowl at low speed until frothy. Increase speed to high; gradually add 3/4 cup sugar, beating until stiff peaks form and mixture is glossy. Spread onto bottom and up sides of prepared pan with back of spoon.
Bake for 1 hour without opening oven door. Turn off oven; let meringue shell stand in oven for 1 additional hour. Remove from oven; cool to room temperature.
Place 1/2 cup half and half, egg and egg yolk in small bowl; mix well. Stir in cornstarch with wire whisk until dissolved.
Combine butter and brown sugar in 2-quart saucepan. Cook over low heat, stirring occasionally, until butter is melted and mixture bubbles (3 to 4 minutes).
Stir remaining 1 1/4 cups half and half into butter mixture, whisking until smooth. Increase heat to medium-high; stir in cornstarch mixture. Cook, stirring occasionally, until mixture is thickened (4 to 5 minutes). Remove from heat; stir in 1 1/2 teaspoons vanilla. Place plastic food wrap directly on surface of filling. Cool 30 minutes.
Spread filling into meringue shell. Cover; refrigerate at least 12 hours or overnight. Before serving, beat whipping cream in small bowl at high speed until soft peaks form. Add 2 tablespoons sugar and 1 teaspoon vanilla; continue beating until stiff peaks form. Spread over filling; top with raspberries.
— Recipe from www.landolakes.com
Purple Mouth Pie
1 cup granulated sugar
4 tablespoons quick tapioca
1/2 teaspoon cinnamon
1/4 teaspoon salt
4 cups frozen blackberries
2 teaspoons margarine
Make your own favorite pastry recipe for a 9-inch, double-crust pie.
Preheat oven to 400-425 degrees.
In a small bowl, mix together the sugar, tapioca, cinnamon and salt. Set aside. Wash/sort berries in cold water, drain, and then place into a large bowl. Pour sugar mixture over the berries and gently toss. Pour into pastry-lined pie plate. Dot with small pieces of the margarine. Add top crust, seal, and carve some vents for the steam to escape.
Bake for 40 minutes. Devour warm.
— Recipe from www.stahlbush.com
Sweet Lime Pie with Salty Pretzel Crust
1/2 (8-ounce) bag pretzel sticks
2 tablespoons butter, melted
4 teaspoons plus 1/2 cup honey
1 (1/4-ounce) packet unflavored gelatin
1 cup Greek-style yogurt
1/2 cup lime juice
2 teaspoons finely grated lime zest
1 cup heavy cream
Confectioners' sugar to taste
Lime slices
Preheat oven to 350 degrees. Put pretzels into a blender and blend until fine crumbs form, about 30 seconds. Transfer to a bowl, add butter and 4 teaspoons of the honey and mix until well combined. Press crumb mixture into bottom and sides of a 9-inch pie plate, leaving a 1/2-inch rim around the top. Bake until just crisp and golden, about 10 minutes. Set aside to let cool completely.
Put 1/2 cup water and gelatin into a small pot and set aside for 5 minutes. Heat over medium-low heat, stirring constantly, until gelatin is dissolved, 2 to 3 minutes.
In a large mixing bowl, whisk together yogurt, remaining 1/2 cup honey, lime juice and zest. Stir warm gelatin mixture into yogurt mixture then pour filling into prepared pie crust. Refrigerate until chilled and set, about 3 hours.
Beat heavy cream with an electric mixer until soft peaks form. Add sugar and continue to beat until stiff peaks form. Slice pie and serve topped with dollops of whipped cream and lime slices. Serves 8.
— Recipe from www.wholefoodsmarket.com
Chocolate Banana Cream Pie
Crust
1 1/4 cups graham cracker crumbs
1/4 cup sugar
6 tablespoons butter, melted
Filling
2 medium bananas, sliced
2 cups milk
1 cup sour cream
1 (3.9-ounce) package chocolate-flavor instant pudding and pie filling mix
1 (3.4-ounce) package banana-cream flavor instant pudding and pie filling mix
1 cup whipped cream
Garnish
Whipped cream, if desired
Banana slices, if desired
Chocolate curls, if desired
Heat oven to 350 degrees. Combine all crust ingredients in medium bowl. Press onto bottom and up sides of ungreased 9-inch pie pan. Bake for 8 to 10 minutes or until light golden brown. Cool completely.
Arrange banana slices over bottom of pie crust. Combine all remaining filling ingredients except whipped cream in medium bowl. Beat at medium speed, scraping bowl occasionally, until mixture is smooth and thickened. Reserve 1/4 cup filling mixture.
Pour remaining filling mixture over bananas in pie crust. Carefully spread 1 cup whipped cream over pie. Drop reserved pudding mixture by teaspoonfuls over whipped cream. Gently swirl pudding into whipped cream using spatula or knife. Refrigerate at least 1 hour.
At serving time, garnish pie with additional whipped cream, banana slices and chocolate curls, if desired. Store refrigerated.
— Recipe from www.landolakes.com