This month, we're mad for mustard.

Delicious
It's here, friends! It's here! March!
Some people wait all year for the holiday season or their birthdays or New Year's Eve, but me?
I wait for March. March — the month of spring, St. Patrick's Day, basketball madness and mustard month at Free State Brewing Co. A trifecta of fun and festiveness!
On the third day of March (and disappointed I didn't make it on the first), I ran to Free State Brewing Co., 636 Mass., for my first round of mustard tasting of the month.
You know about this, right? Every March, Free State brings hundreds of mustards to their display case and to the tables of their patrons for sampling. At the end of the month, two lucky Lawrencians go home with the mustard. All of those glorious bottles of fabulous flavors of mustard.
I sampled sweet mustards, hot mustards, a bloody mary mustard and a mustard that — I kid you not — tasted like a chili dog. It was a chili dog! In a mustard bottle! Be still my mustard-loving heart.
So, in honor of mustard month and all the upcoming basketball viewing (and the color green), I decided to make a buffalo wing alternative — one made specially for the beautiful month of March.
And lo, the wasabi mustard wing was born.
I have long been a fan of wasabi mustard. I mean, wasabi and mustard, my two favorite condiments, together in one delicious sauce. Yes, please.
Frankly, I probably could have just painted the wings in wasabi mustard and thrown them on the grill to good results, but I wanted some more flavor, something more special for my most magical month of the year.
Because I'm eeking over the "nutritious" camp more and more every day, I looked for a way to make my wings a little less fattening but still full of flavor. So I eliminated the fryer and opted for the oven, though the grill would also be a great choice. I skipped butter and mayo and instead used my new go-to sauce base: Greek yogurt. And it was amazing.
I used full drumsticks instead of the typical small wings because I wanted to be able to remove the skin and still have something left to eat. The beauty of actual wings is that there is a lot of skin surface area — excellent for frying. But it's not so excellent if you are trying to shed a pound or two, so the drumstick makes a great alternative. It's affordable, healthy and a great palette for all manner of flavors.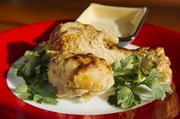 Wasabi Mustard drumsticks with Dipping Sauce
12 chicken legs, skin removed (or not, depending on your preference)
2 cups nonfat Greek yogurt
3/4 cups prepared wasabi mustard
1/2 cups soy sauce
1 teaspoon sesame oil
1 tablespoon powdered ginger (if you use fresh, use less)
Stir this together and pour 3/4 of it over the chicken in a glass baking dish.
Cover and marinate for a couple of hours.
Bake at 325 degrees for 30 minutes, then turn the heat up (or the broiler on) and cook another 5 minutes to brown the tops.
For the dipping sauce, use the reserved liquid and add another tablespoon of soy sauce and a tablespoon or two of water to thin it. Serve!
We had this with some oven-baked homestyle french fries and some roasted vegetables. It's bar food, only better.
Happy March, everyone. Play hard, play safe, play to win. Go Jayhawks!

Nutritious
When I was a little girl, one of my favorite "sandwiches" was this: yellow mustard and iceberg lettuce on wheat bread.
Yes, seriously.
The fact my parents let me get away with that is absolutely amazing — there's like no nutritional value at all. But you know what there is? LOTS of taste.
All thanks to the mustard. The bread and the lettuce? Vehicles for said mustard.
Back then I wouldn't touch any mustard but yellow with a 10-foot pole. These days, my taste buds are a bit more sophisticated, and I've come to greatly appreciate the nose-tingling mustards of Europe.
I'll seriously try pretty much any mustard, from dark and beer-laden, to peppery near-orange to creamy and tinged with horseradish. Even the bizzarro neo-mustards of modern foodie-ism call my name: the chipotle mustards, wasabi mustards and ginger mustards.
Yeah, pretty much any mustard any time is MINE.
But, as far as everyday cooking is concerned, there's one mustard I can't do without: good ol' Dijon. It's perfect when spread on a crusty baguette and topped with slices of creamy avocado or whisked into a sauce or dressing.
Honestly, it's probably the most versatile condiment I buy regularly. And buy it I do — we probably go through a big jar of it once a month. I think the only store-bought condiment we go through faster is peanut butter (and for that, I blame my toddler's love of spooning it on apple slices).
Suffice it to say I had a hard time picking a single way to enjoy mustard when Megan and I discussed capitalizing on March's mustard madness.
So I went basic.
Dijon adds a great kick to homemade salad dressing. Mix it with oil and vinegar and watch it make your salad extra special.
I like to enjoy this simple dressing over mixed baby spring greens, topped with roasted balsamic beets — for a how-to, check out my favorite way to do beets and other roasted veggies on my Lawrence.com blog — plus crunchy slices of red onion, chickpeas and sweet dried cranberries.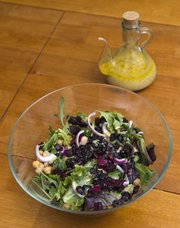 Simply Dijon-licious Vinaigrette
 2 tablespoons red wine or balsamic vinegar
1 tablespoon lemon juice
1 tablespoon Dijon mustard
1/4 cup olive oil
1/2 teaspoon salt
Pepper, to taste

Whisk the ingredients well and serve.