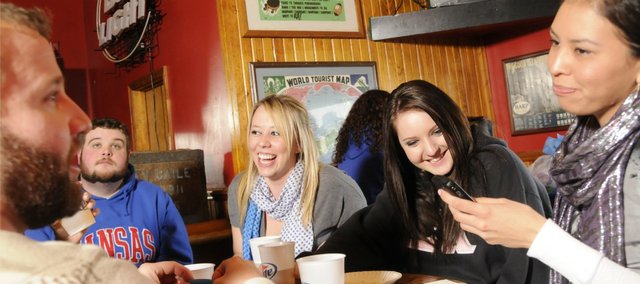 Mozzarella sticks. Chicken Wings. Spinach dip.
Tasty, comforting and perfect combined with a beer and March Madness. If you happen to want your beer and your basketball at home, it might seem that getting your hands on your sports bar favorites just isn't going to happen.
But it can, it just takes a little bit of work. For the effort, you can chow down on some of your favorites from the comfort of your favorite spot on the couch.
Included in the tasty possibilities? Bacon burgers, potato wedges, pizza and even taquitos. How's that for a final four?
Merry Mozzarella Cheese Sticks
16 ounces mozzarella cheese, or 12 to 16 sticks mozzarella string cheese
1 cup flour
1⁄4 teaspoon granulated garlic
Sea salt and pepper to taste
2 large eggs
1 cup bread crumbs
1 teaspoon Italian seasoning (or to taste)
Olive oil (for deep-frying, a "light" version works best for frying)
Marinara sauce, warm
Cut block of cheese into sticks approximately 1/2-inch thick by 1-1/2 inches long. (If using string cheese, cut each one in half.) Combine flour garlic, sea salt, and black pepper on a medium-sized platter. Beat the eggs with a fork until smooth in a small mixing bowl. Mix the bread crumbs and Italian seasoning on a plate. Adjust seasonings if desired.
Add cheese sticks to the flour mixture and toss to coat. Dunk them in the egg mixture and then in the seasoned bread crumbs. Arrange breaded sticks in a single layer on a baking sheet. Allow cheese to rest for 30 minutes or so.
Pour olive oil into a large skillet to a depth of 3/4 to 1 inch and heat over medium-high heat. Test the heat level with one cheese stick before frying a whole batch; the oil is hot enough when it begins to bubble a bit when you add the cheese stick. Very carefully add the cheese sticks, a few at a time, and fry until golden, about 30 seconds. Scoop the golden cheese sticks from the oil with a slotted spoon, then drain on paper towels. Serve warm, allowing guests to dunk to their heart's content in marinara sauce.
— Recipe from www.organicvalley.coop
Ultimate Chicken Wings
2 pounds chicken wings (about 12), split, tips removed
1/4 cup orange marmalade
1/4 cup Asian sesame with ginger dressing
1 teaspoon garlic powder
Preheat oven to 450 degrees. Place chicken wings in single layer in shallow foil-lined baking pan. Bake 15 min. or until browned.
Meanwhile, combine marmalade, dressing and garlic powder.
Brush marmalade mixture generously over both sides of wings. Continue baking 15 min. or until chicken is cooked through.
— Recipe from www.kraftrecipes.com
Gorgonzola and Smokey Bacon Burgers
4 slices bacon, chopped
1 pound 90-percent lean ground beef
3 tablespoons crumbled Gorgonzola cheese
1/4 teaspoon sea salt
2/4 teaspoon ground black pepper
1 large tomato, thickly sliced
1 small red onion, thinly sliced
4 whole-wheat burger buns
Heat a large skillet over medium heat. Add bacon and cook, stirring occasionally, until crisp. Drain, transfer to a small plate, and set aside to let cool. Form beef into eight thin, round patties. Divide bacon and Gorgonzola between four of the patties, then top each with one of the remaining patties. Press the edges of each burger closed to seal well. Season burgers all over with salt and pepper. Grill over high heat, or cook in a large skillet over medium-high heat, until desired doneness, 2 to 3 minutes per side. Top burgers with tomatoes and onions and serve on buns.
— Recipe from www.wholefoods.com
Santa Fe Vegetable Wrap
1 (12-inch) whole wheat tortilla, any flavor
1 1/2 tablespoons cream cheese, softened
3 leaves red or green leaf lettuce
4 slices pepper jack cheese
4 thin slices tomato
1/2 avocado, thinly sliced
4 thin slices red onion
1/2 cup thinly sliced jicama
1/4 cup fresh or frozen and thawed sweet corn
1/2 cup cooked black beans, rinsed and drained
Spread tortilla with cream cheese. Place 2 lettuce leaves over the cream cheese. Layer the pepper jack cheese on top, then layer the tomatoes, avocados, onions and jicama over the cheese. Spoon corn and black beans evenly over the top. Top with the remaining lettuce leaf and roll up tightly. Slice in half diagonally and serve.
— Recipe from www.wholefoodsmarket.com
White Chicken Pizza
2 tablespoons butter
1 teaspoon finely chopped fresh garlic
9 (3/4-ounce) slices (1 1/2 cups) provolone cheese
1 (14-ounce) round prebaked Italian pizza crust
1 cup shredded deli rotisserie chicken
2 tablespoons coarsely chopped parsley
Heat oven to 450 degrees. Melt butter in 1-quart saucepan over low heat; add garlic. Cook until garlic is softened but not browned (5 to 6 minutes).
Stack cheese slices. Cut into thin strips; coarsely chop.
Place pizza crust onto large ungreased baking sheet. Spread garlic butter evenly over crust; sprinkle with 3/4 cup cheese. Evenly spread chicken and parsley over crust. Top with remaining cheese. Bake for 9 to 11 minutes or until cheese is melted and lightly browned.
— Recipe from www.landolakes.com
Cajun Potato Wedges
1/4 cup butter
1 tablespoon Cajun seasoning*
2 (16-ounce) packages frozen potato wedges, thawed
Sauce
1 1/2 cups sour cream
4 ounces (1 cup) shredded cheddar cheese
1/4 cup chopped green onions
1/4 cup milk
1/4 teaspoon garlic salt
4 to 6 drops hot pepper sauce
Shredded Cheddar cheese, if desired
Heat oven to 425 degrees. Combine butter and Cajun seasoning in 1-quart saucepan; heat until sizzling. Place potatoes on two greased aluminum foil-lined baking sheets with sides. Drizzle evenly with butter mixture; toss to coat. Bake for 25 to 30 minutes or until potatoes are golden brown and crisp.
Meanwhile, combine all sauce ingredients in medium bowl; mix until well blended. Spoon into serving bowl; garnish with additional shredded cheese, if desired. Serve potatoes with sauce.
— Recipe from www.landolakes.com
Warm Spinach Dip
1/4 cup butter
1 large (1 cup) onion, chopped
1 small (1/2 cup) red bell pepper, chopped
1 tablespoon finely chopped fresh garlic
2 tablespoons all-purpose flour
1/2 cup chicken broth
1/2 cup heavy whipping cream
1/2 cup feta cheese with garlic and herbs*
1/4 cup plain yogurt
1 (10-ounce) package fresh spinach leaves, stems removed, cut into thin strips
1/8 teaspoon hot pepper sauce
Salt
Pepper
Melt butter in 10-inch skillet until sizzling; add onion, red pepper and garlic. Cook over medium heat, stirring occasionally, until onion is softened (5 to 6 minutes). Stir in flour; continue cooking 1 minute. Add broth and whipping cream. Continue cooking, stirring with wire whisk, until mixture is thickened (2 to 3 minutes).
Remove from heat. Stir in cheese, yogurt, spinach and hot pepper sauce. Season with salt and pepper to taste. Serve warm with crackers, bread slices or assorted vegetable sticks.
*Substitute 1 cup freshly shredded Parmesan cheese.
Serve sesame crackers, party rye cocktail bread slices and/or assorted vegetable sticks (such as carrots, celery, etc.)
— Recipe from www.landolakes.com
Taquitos with Creamy Jalapeño Sauce
1 can (7 ounces) pickled jalapeños and carrots, undrained
6 cups finely shredded cabbage
2/3 cup sour cream
1/3 cup mayonnaise
1/3 cup finely chopped onions
Oil, for frying
3 cups refried beans
24 corn tortillas, warmed
Fresh lime wedges
Heat oven to 250 degrees.
Drain jalapeños and carrots, reserving liquid. Pour reserved liquid over cabbage in large bowl; toss lightly. Refrigerate until ready to use.
Chop jalapeños and carrots; place in medium bowl. Add sour cream, mayo and onions; mix well. Refrigerate until ready to use.
Heat 1 inch of oil in large skillet to 375 degrees. Spread 2 tablespoons beans onto each tortilla; roll up tightly. Secure with toothpicks. Add, in batches, to skillet; cook 2 to 3 min. or until golden brown, turning occasionally. Remove from skillet; drain on paper towels. Discard toothpicks. Keep warm in oven until all taquitos are fried.
Place taquitos on large platter; surround with cabbage mixture. Serve with sour cream mixture and lime wedges.
— Recipe from www.kraftrecipes.com