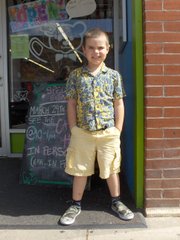 Name: Duncan Van Fleet
Age: 5
Hometown: Lawrence
Time in Lawrence: Five years
Occupation: Student and pencil sharpener for the fifth-grade class
Dream job: Artist or archaeologist
What were you doing when scouted? Looking for Legos!
How would you describe your style? I like wearing shorts and tank tops.
Current favorite fashion trends: Beach-inspired clothing; mummy shirts; nicer button-up dress shirts.
Fashion influences: Superheroes.
What would you like to see more of in Lawrence? More dinosaur bones and other animal bones.
Less of? Traffic.