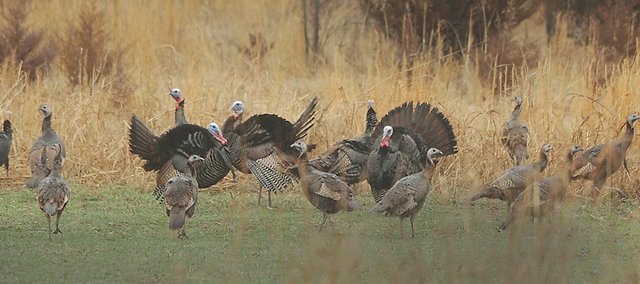 With the approach of spring, area wildlife are beginning their seasonal mating rituals.
I woke up around 7 a.m. last Monday to hear our dogs barking wildly at six male turkeys fighting in the front yard. This meant a whole lot more turkeys would be on the move.
That's good news for a nature photographer. But wildlife isn't always easy to photograph or predict. Sometimes you wait for hours just to catch a small group, and then the very next day there's a rafter of turkeys filling a field.
To be prepared I always have a Nikon D700 camera with a 500mm telephoto lens in my vehicle and at my side, ready to shoot photos. On this particular morning I drove around a corner and spotted nearly 75 turkeys. I continued past them so I wouldn't spook them by stopping. On my second pass I drove slowly and was provided a nice scene for a photograph. The next day there wasn't a bird in sight. But Wednesday morning they were everywhere, and another flock was coming into the wheat field — a photographer's paradise.
Most wildlife are out in the early morning and late afternoon, preferring to shelter in heavy brush or remote areas for safety and food during the daytime. When I head out into the woods I'll wear long-sleeve shirts because ticks are always a problem. I'll typically carry two cameras, one with a telephoto lens, with the ability to capture subjects in low light, and maybe a macro/normal lens for detail work.
Early next month I'll join in on a Konza Prairie's greater prairie chicken viewing and I'm excited about the possible photo opportunities.
I last photographed the prairie chickens 25 years ago, and camera equipment wasn't as good as it is today. We use Canon EOS cameras at the Journal-World, and they enable us to shoot high-definition video and take quality images in very low light.
We can get good results using ISO's as high as 6400. I also now have a lens adaptor that allows me to use Nikon lenses on my Canon cameras. I may also have the opportunity to set up a remote camera to capture photographs from a distance using radio remotes.
The downside of this next wildlife field trip is that I have to be in a viewing blind by 5:30 a.m. One can see that it takes some will and determination to get out and capture wildlife images. In the end, seeking out these photographs can be its own reward just for experiencing the quiet and serenity of nature.