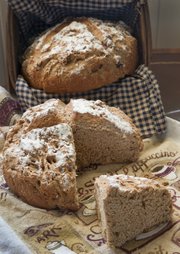 As a recent inductee into the Society for the Preservation of Irish Soda Bread, I have sworn to uphold an unwritten law of traditional Irish baking: Thou shalt not put weird stuff in thy soda bread.
This means no raisins, no whiskey and definitely no chocolate chips. Being a home baker means you can put whatever you want in whatever you make, but there must be truth in advertising. Real-deal Irish soda bread contains flour, salt, baking soda and buttermilk. That's it.
But.
Suppose you're like me, with branches of the family tree transplanted from the global garden. Wouldn't you like to celebrate all parts of your lineage? Of course! So, we'll compromise with Heritage Soda Bread. Grab a mixing bowl and follow along.
The night before you bake, get a big tub of plain yogurt and let it get to room temperature. Set a strainer in a large bowl and line it with cheesecloth. Pour the yogurt in, tie the corners of the cloth together, and hang it up to drip.
Now for the bread. Stir a tablespoon of vinegar into two scant cups of milk and set it aside. In a large-ish bowl, combine four generous cups of flour, half a teaspoon of salt, and half a teaspoon of baking soda. This is where the creativity comes in.
Taking a leaf from the family cookbook, choose herbs that were common in your ancestors' kitchens. You probably have some on hand.
I experimented with several herb combinations this month. The sun dried tomato and basil was delicious, while the sage and celery seed made a great snack for the squirrels. My favorite flavor so far is garlic with oregano and Parmesan. Be generous with things like cheese or tomatoes, but limit dried herbs to half a teaspoon of each.
After adding the herbs, stir in your soured milk. Work quickly but carefully. Dump the resulting dough into a greased eight-inch round cake pan. Sprinkle it with a little flour, and then slice a deep "X" across the top. Invert a second cake pan over the first, and bake your loaf in a 400-degree oven for 30 minutes. Remove the top pan and bake your bread for another 15 to 20 minutes. Your loaf should be golden brown and sound hollow when tapped on the bottom.
I know it's hard to wait, but let the bread cool on a rack; you've still got some work to do. Remember that yogurt hanging in the cheesecloth? It's probably stopped dripping by now. Untie the cloth and turn out your former yogurt into a lidded container. The one the yogurt came in will work perfectly.
Ta-dah! You now have homemade "cream cheese" to spread on your homemade soda bread. Your friends and family will be impressed, and you will enjoy feeding them something that's light on ingredients and heavy on flavor. Drop me a line and let me know what combos you come up with.
Enjoy!
— Audrey Lintner can be reached at bitesighs@hotmail.com.