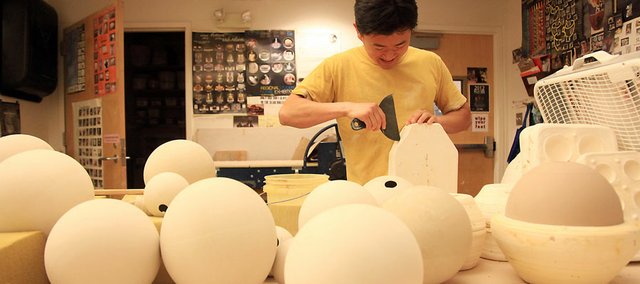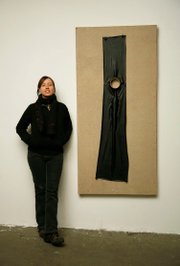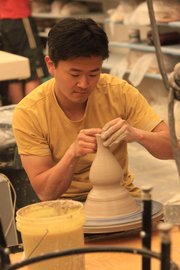 Allen Chen throws for a living.
Well, that's a bit of a misnomer. It's called "turning" in Europe, he says, and that's a little more accurate. As a ceramics artist, he "throws" clay on a wheel, creating series of large, functional pots and jugs as well as a portfolio of installation work — perfect spheres that will hang in galleries. Ceramics is his passion — it has been since age 12, when his family moved from Taiwan to California, where he grew up — but it's not the easiest way to earn a living.
But for artists like Chen, there are residency programs at universities and arts centers across the country. Currently, he's one of two residents at the Lawrence Arts Center. It's a year-long gig, but he wouldn't have it any other way.
Susan Tate, director of the arts center, says that Chen and Carla Aspenberg, a printmaker and sculptor, made it through more than 100 applications for the residency program, which began in August. Tate was looking for "innovative and high-quality" artists who could create a new body of work during their year-long appointment as well as contribute to the community.
"They're considered an important resource," Tate says. "Serious students love working with them."
Chen and Aspenberg both teach several classes at the center while working on their own portfolios, which will be shown in an exhibit on May 25. They've both had residencies elsewhere — Chen in Red Lodge, Mont., and Aspenberg at Pilchuck Glass in Seattle and several small galleries on the east coast — but both praise the Lawrence residency program as one of the best going.
That's because of the support of the arts center's board, the $500 per month living stipend they receive, the availability of teaching experience and the availability of facility space, they say. Plus, Lawrence is a place they've come to love.
"A lot of towns claim to have a vibrant arts scene," Chen says, "but I was pleasantly surprised when I got here and saw that, yes, this is great, this is by far better than advertised."
But the scene of always something going on is just an added bonus for the up-and-coming artists, Chen says.
Lawrence is one of the easiest places to live because "people are incredibly friendly," Aspenberg says.
As young artists, they move around a lot, and both are hoping to find yet another residency after this one finishes. That can be tough, Chen says, but that's just the downside of the opportunity to be a resident.
"The networking of it is great," he says. "People engage like they're going to be friends forever."
While Chen works in the ceramics studio, Aspenberg is a printmaker, teaching classes in intaglio and woodcut relief. Her passion is printing on shattered glass, "exploring different materials to make them look like something they're not," she says.
It's that kind of innovation, Tate says, that makes her a good artist and her and Chen assets as residents. Overall, the residency program gives a leg up to artists and a resource for would-be artists in the community, Tate says. The curatorial support of the center boosts the residents' careers while the time devoted to teaching spreads their knowledge.