Photo Gallery
Spotted it, found it: Spring trends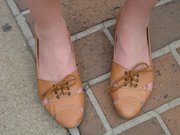 Ali Edwards saw people sporting this season's trendy items and tracked down similar items at local stores.
Last week, I spotted and found some of this spring's best pieces: sandals, pastels and skirts. See how fellow Lawrencians wear their springtime stylings and find out where you can find similar items at local shops.
Sandals
During a gap between floats at the St. Patrick's Day parade, I looked down at the sidewalk and noticed these springtime sandals standing next to me. I tapped the owner of the shoes on the shoulder and simply asked, "Can I take a picture of your shoes?" She was gracious enough to take her eyes off the various beauty queens and community causes passing by to allow me to do so.
She snagged these at Urban Outfitters, 1013 Mass., but I found quite a few similar pairs at Wild Man Vintage, 939 Mass., and Arizona Trading Company, 736 Mass. If you can afford to and you'd rather get a never-before-used pair of shoes for the season, check out Foxtrot, 823 Mass. They have gorgeous spring and summer selections for about $100 each.
Pastel jeans
Let's take a moment to praise the fashion industry for creating pieces that first and foremost flatter the female form and secondarily look good on the rack. These pastel purple pretties don't stand out as a "must have" when they're on a hanger, but put some legs in them, and they magically transform into a spring staple. Pastels are big this spring, so I suggest you head to White Chocolate, 933 Mass., and get these before they're gone. This woman got her pair (identical to the ones at White Chocolate) at The Bunker, 4056 Broadway St. in the Westport neighborhood of Kansas City, Mo.

Skirts
Because my heart is (sometimes irrationally) dedicated to frugality, I appreciate those who can take out-of-season pieces and style them in a way that brings them completely back into season.
Take for example, the skirt this woman is wearing.
The skirt is surely made of winter-y fabric, but she paired it with a springy scarf and bare legs to create a springtime outfit. I found a pencil skirt similar to hers at Wild Man Vintage that one could mold into a spring piece. The small neon threads running through it lighten up the otherwise black skirt, making it easier to adjust to springtime. If you'd rather not wear wool in the springtime, Wild Man Vintage also has a variety of breezy satin skirts that can also work in the cooler months.

— Ali Edwards can be reached at go@ljworld.com.