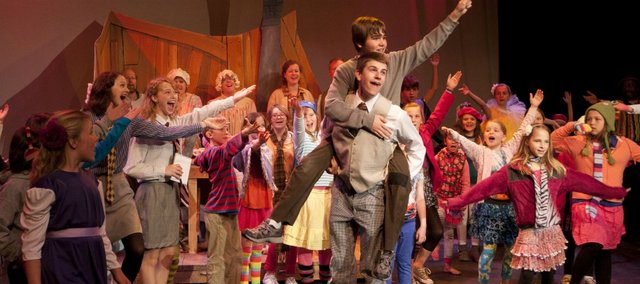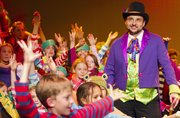 Photo Gallery
Roald Dahl's Willy Wonka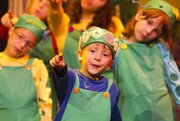 Children audition for "Willy Wonka and the Chocolate Factory" at the Lawrence Arts Center.
Roald Dahl's 'Willy Wonka'
When: 7:30 p.m. Friday; 2 p.m. Saturday and Sunday; 7:30 p.m. Thursday and Friday, April 5 and 6; and 2 p.m. Saturday, April 7.
Where: Lawrence Arts Center, 940 N.H.
Cost: $18 for adults, $12 students/seniors. Group rates available.
The Oompa-Loompas run free.
Dressed in green pill-box hats and clad in polka dots and stripes — lots of stripes — they excitedly roam around the greenrooms, the wings, the nooks and crannies off the stage. Don't blame them for their energy; the youngest of them are just 6 years old. Well, director Ric Averill thinks so at least. "Some 5-year-olds might have snuck in there. I'm not sure," he says.
But no matter. Regardless of age, they're chatting as kids do — probably a little too much. But when it's their time to jump on stage, they're all business.
Two Oompa-Loompas are responsible for wheeling a prop TV set on stage and then, at just the right moment, introducing a doll through a slit in it to re-create a whimsical moment in "Roald Dahl's Willy Wonka," a Broadway-format musical that's similar to the 1971 movie "Willy Wonka & the Chocolate Factory."
During a tech rehearsal on Tuesday, on their second try, the kids nail it. And the scene is made.
Averill says show has an inclusive nature — age-appropriate casting for the kids and parents who make up the lead protagonists as well as 5- and 6-year-old Oompa-Loompas, or little people from Loompaland that live in the eponymous factory — and that it truly is a family production, made by and for families.
Naomi Brakenhoff plays Violet Beauregarde, a gum-chewing little brat who, like several in the story, meets an unpleasant comeuppance because of her own greed. She says her mom would be in "Willy Wonka," too, if she weren't just about to give birth to Naomi's baby sister.
"It's lots of fun to do the play," Naomi says. "Everyone's so nice, it's like a family."
Averill says that about 100 people are involved, including children, some parents, 20 "squirrels" (it's a big number) and a seven-piece orchestra. They started rehearsing at the beginning of February and started with work two or three times a week but picked up in preparation for their Sunday matinee and three shows next weekend. With so many cast members and moving parts to any production, let alone this colorful musical, Averill's work is several parts organizing the chaos but also a labor of love.
It's worth it, he says, because "it's a really fun piece" and because the even the smallest kiddos learn from the process. They learn theater techniques and vocabulary through first-hand experience.
That's a bonus for Elizabeth Slade-Haney, who plays Mrs. Gloop, the mother of a food-loving little boy who gets into trouble falling into a chocolate river. Haney says it's great for kids, a lot of whom don't go to the same schools, with an interest in theater to get together to learn. Personally, it's a connection with her childhood that attracted her to the role — the original film was one of the few she and her brother could agree on. Appealing, too, she says, was the chance to work with local actor Jerry Mitchell, who plays Wonka.
The production is a lot of what people will likely expect, and some of what they won't, Averill says, as it will include songs that aren't in the movie.
"It's a sweet, fun piece," he says.