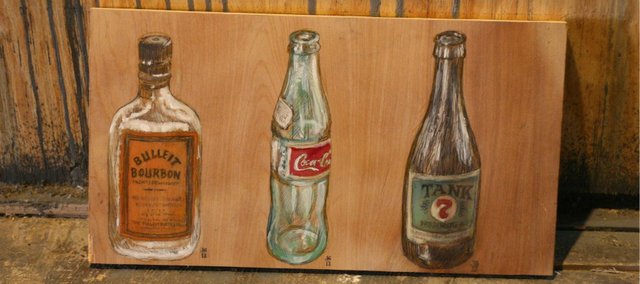 Mammalia – Be Moved Studio
The beauty of beasts will be a primary focus of a new exhibition of artwork by Anne Bruce, "Mammalia," opening this Friday at the Be Moved Studio, 2 E. Seventh St. "Mammalia" features drawings and watercolor paintings that aim to remind us that emotions are not absent in the animal kingdom and when it comes down to it, humans are animals, too.
Bruce says she drew inspiration for "Mammalia" living in the country and doing farm work. Milking cows every day, Bruce began to form a connection with the animals. And her admiration for the figures and movement of the buffaloes and cows she spent time with led to the creative output that now makes up the exhibition.
With a master's degree in architecture and a background in yoga and dance, Bruce honors all of these interests in her artwork. "Mammalia features pieces that juxtapose linear and organic structures while retaining mood and sentience.
"I use the figure to portray emotion in position of how I feel," Bruce says.
Friday's event will feature a poetry reading by Peter Wright as well as a performance by Lawrence singer/songwriter Rachael Perry with accompanying musicians. Inspired by travel and sometimes sung in Spanish, Perry's songs often deal in theme with the beauty of the natural, animal world. Perry says her music and Bruce's artwork make a "dreamy combination."
"Mammalia" starts at 7:15 p.m. Performances will begin around 8:15.
Cat People – Wonder Fair
Lawrence cat lovers will fancy the new exhibition opening Friday at Wonder Fair, 803 ½ Mass. "Cat People" features an international roster of artists displaying works focusing on cats and their owners.
Wonder Fair co-owner Meredith Moore curated the exhibition, focusing on the idea and filling it out with suitable artists.
"We thought the title, "Cat People," was funny and wanted to run with it," Moore says.
The primary artist in the show is English illustrator Faye Moorhouse, whose work will occupy more than half of the gallery space. This will include prints from her book, "The Cat Ladies of Czechoslovakia," an imagined folk tale about a group of women making an annual pilgrimage to buy cat food. Falling a bit on the darker side of folklore, the book showcases the sometimes-creepy relationship people can have with their pets.
"Cat People" will feature works by another UK artist, Gemma Correl, whose "Pugs Not Drugs" designs have attained some notoriety on the web, as well as Portland, Ore., pet-portrait artist Nicole Georges and Boston illustrator Liz Prince. These three artists work primarily in illustration for comics and zines, ensuring that there will be plenty of humor in the exhibition. There will also be some installation pieces by local artists.
Though felines are the common factor throughout the exhibition, the pieces often comment more on the states of the people who own cats and at times depend on them for emotional support.
"It's not just about cats; it's about cats within a larger story," Moore says.
The opening reception of Cat People will also mark the debut of the Wonder Fair Milk Bar, which will double as a YouTube cat video theater for the night.
Sprung – Lost Art Space
In celebration of the season, the Lost Art Space, 845 Mass., will host a collection of fresh artwork from several Lawrence artists with the opening of a new exhibition, Sprung.
Keeping with the gallery and studio space's goal of primarily showing art that was created inside the building itself, Sprung features art largely from resident artists Paul Flinders, Jesse Gray, Jeromy Morris, Jeremy Rockwell and Erok Johanssen. In addition, the exhibition boasts the work of Colby Earleywine, Michaela Carmen and Matt Ridgway.
The opening event for Sprung will feature a live musical performance by Lawrence electronic outfit 1,000,000 Light Years.
As Jeremy Rockwell's vibrant mixed-media piece Electric Eagle (pictured) might suggest, Sprung comprises artwork rich in color and spry in spirit. This is both a testament to pleasant weather and a product of the mood in the building. With newly painted walls and a few successful events under its belt, things are blooming at the Lost Art Space.
Lawrence Art Party
The organizers of the Lawrence Art Party will be celebrating Final Friday in typical fashion this month, throwing a multi-media shindig featuring more than 20 local painters, photographers and sculptors, as well as live music performance and a book reading.
Visitors to the event, located on the ground floor of the Hobbs Taylor Lofts, 718 N.H., can peruse the abstract expressionist paintings of Lanexa artist Jilli Nell, landscapes and portraits from Lawrence painter Gary Scott, the sculptured metalwork of George Paley and much more in the sprawling gallery space.
Friday's event will feature musical performance by singer/songwriter/guitarist John Lomas, and Lawrence author David Hann will do a book reading and signing. Hann, whose stories are often based in Lawrence and the surrounding areas, released a new book, "River Memoir and Other Stories," earlier this year.
99 Bottles – The Bourgeois Pig
This Friday at the Bourgeois Pig, 6 E. Ninth St., the glass bottle will take form beyond just transportation for your beer. During the opening for "99 Bottles," a new exhibition of works by Lawrence artist Jesse Gray, the bottle will become a work of art, admired for its aesthetics as well as its utility.
In more than 20 still lifes of glass beer, booze and soda bottles of various color, shape and logo, :99 Bottles" celebrates an object we have intimate contact with but often don't think about. Gray says the pieces are musings on the vessels that we use for consumption and then throw away. He sees beauty in the bottles, which he recreates with paint, ink and pencil on wood.
Built from simple sketches that aimed to capture the bottles in a moment in time, the works in the exhibition display both the designs in the glasswork and the advertising of the companies that create them. Gray made the pieces in "99 Bottles" specifically to be shown at the Bourgeois Pig, where they will be mirrored in the hands of patrons for the next month.