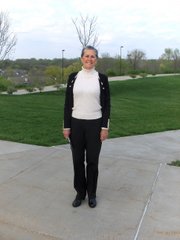 Name: Kay Brada
Age: 72
Relationship status: Happily married
Hometown: Kansas City, Missouri
Occupation: Retired
What were you doing when scouted? Leaving the Dole Center after a talk on the 2012 presidential campaign.
How would you describe your style? I have a classic style with a bit of a dressy flair. My daughter has gotten me a lot of platform shoes, and I am trying to work them into my outfits.
Current favorite fashion trends: I like to wear suits for dressier occasions and jeans for more casual times.
Fashion trends you hate? I don't like low-rise or saggy jeans.
What would you like to see more of in Lawrence? I would like there to be a wider variety and selection for women's shopping.
What would you like to see less of in Lawrence? I could stand to see less parking meters.
Do you have any piercings or tattoos? My ears are pierced, much to my mother's chagrin.
More like this story on Lawrence.com