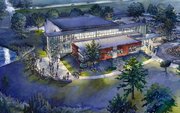 Theatre Lawrence will break ground this week on its new facility, which has its leaders counting down the days until they'll escape routine scenarios like this one:
Last week, the group members had a late-afternoon meeting with an architect in the lower level of the retrofitted church the group now calls home, executive director Mary Doveton says. They had to end the meeting so a children's class upstairs could move downstairs, enabling an adult tap-dancing class to begin and finish in the upstairs space before actors showed up to rehearse "Joseph and the Amazing Technicolor Dreamcoat."
"Right now we are so crammed," Doveton says. "All of our programs are just jammed into this very small space. We're turning kids away from children's programs. We have things stored at three separate locations around town. We've had to add performances to shows this year — we've sold out three of our productions."
The public is invited to the groundbreaking ceremony, scheduled for 4:30 p.m. Thursday at 4660 Bauer Farm Drive. The site is in the Bauer Farm development at Sixth Street and Wakarusa Drive. Doveton hopes the new building will open in a year.
It will be the first time Theatre Lawrence — which celebrated its 35th anniversary last month — has had a home designed just for it.
In its first show, the troupe formerly known as Lawrence Community Theater performed "The Secret Affairs of Mildred Wild" in the Carnegie Library building at 200 W. Ninth St., Doveton says. Then they squeezed in shows wherever they could — including South Park and even the Teepee Junction.
The group bought the church at 1501 N.H. in 1984 and had its first show there in 1985. Plans for the new building call for a 300-seat theater with dressing rooms and offices, plus an education wing with classrooms and outdoor space.
To build the new facility, Theatre Lawrence raised about $6.5 million, a feat Doveton describes as a "phenomenal" community effort. In addition to private donors, the Lawrence City Commission and the Douglas County Commission each pledged $100,000 to the project over the next five years, helping Theatre Lawrence exceed its initial fundraising goal of $6.2 million.
Doveton says building costs have gone up since plans were first announced. The $6.5 million would pay for only construction of the building, and the theater would continue raising money for furnishings and equipment.
The late George Woodyard, a Spanish professor and former dean of international studies at Kansas University, helped lead Theatre Lawrence's fundraising campaign, and his sister Mabel Woodyard's estate donated $1 million to the effort.
Eleanor Woodyard said space afforded by the new facility would help achieve her husband's vision of exposing everybody — "young to old, rich to poor" — to theater.
"This building should be a wonderful facility for everybody in the community, to use and to come and enjoy," she said.
More like this story on Lawrence.com