Lawrence artist Jordan Tarrant is bummed.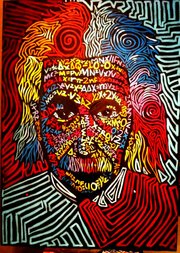 He's lost one of his favorite works — a brightly colored portrait of Albert Einstein — and he's hoping to get some help in getting it back.
Tarrant says the painting, some prints and an LED light were stolen from his van early Saturday night. It's worth $2,000, he said, but it's unlikely to go unnoticed as stolen goods — it's about 5-feet tall and 3-feet wide.
He called the police on Saturday and filed a report. But then he turned to Facebook, posting photos with the thought maybe the stolen art would turn up.
"I don't know what they'll do with it," he said of the thief. "But I hope someone sees it and I can just get it back."
Tarrent said anyone with information can reach him through his website.