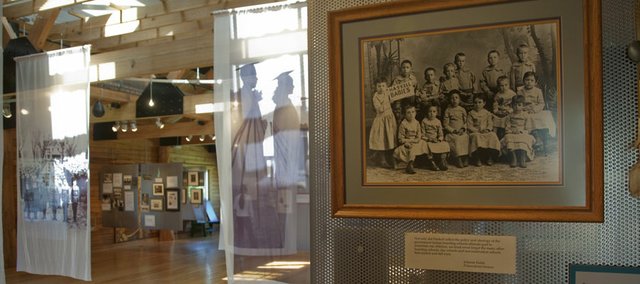 When local historian Katie Armitage has out-of-town visitors, there is one place they always go: the Haskell Cultural Center and Museum.
"It is a unique experience and an underused jewel," says Armitage. "It is part of our heritage that people, especially those from Europe, really enjoy learning about."
The museum at 143 Barker Ave. on the campus of Haskell Indian Nations University opened 10 years ago as part of a national effort by the American Indian Higher Education Consortium to create repositories for Native American art and culture. Among its missions is tracing the history of Haskell itself, from its origins in 1884 as the U.S. Indian Industrial Training School to its place today as a four-year, degree-granting university.
The school is named for Kansas Congressman Dudley Haskell, younger brother of famed architect John. As chairman of the Committee on Indian Affairs, Haskell was able to convince his fellow legislators that the fertile ground around Lawrence was an ideal place to teach agricultural vocations to the Native population. By the end of the first year, there were more than 400 students from tribes enrolled in the government-run boarding school, and they came from all over the country: Osage, Cherokee, Omaha, Delaware, Hopi, Ute, and Sioux to name a few.
Haskell's first students grew their own crops, prepared their own meals and severed all ties with their Native traditions. Hair was cut, military-style uniforms were mandatory and English was the only language allowed. There was to be no conversing among siblings and no practicing of tribal customs or traditions. A small cemetery on the campus attests to the bleak conditions in the early days of Haskell. The first year, 10 students died from pneumonia. Over the next five years, 49 deaths were recorded from diseases, illness and accidents.
It was nearly 50 years, 1933, before Haskell was to get its first Native superintendent, Dr. Henry Roe Cloud. Cloud, the first Native person to graduate from Yale University, introduced a different, more progressive, curriculum to the school, one that emphasized Native cultures. Students still learned trades such as nursing, printing and machinery, but assimilation was no longer the goal.
High school classes were no longer offered after 1964, and in 1970 the school officially became Haskell Indian Junior College, a name it kept until 1993 when it started offering four-year baccalaureate programs, and it officially became Haskell Indian Nations University.
The collection documenting the school's history preserves and exhibits artifacts from Haskell's past, and it is a collection that is continually growing.
"Just last week we received a bunch of letters from a boy who was a student here in 1895," says student assistant Caitlin Cooper, who has been working with a fellow student to keep the center open until a director is found. "The letters were found stuffed in a wall."
The brittle, yellowed letters were written by Hugh Tossett, from the Comanche tribe.
"He is asking for spending money, and he talks about an outbreak of scarlet fever on the campus," says Cooper. "He must have been a younger student because in one of the letters he says that the 'large boys' are forming a football team."
In addition to the exhibits depicting Haskell's history, the museum collects paintings and artwork from current and former students and faculty. It also houses one of the finest collections of photographs of Native American leaders from the turn of the century. The Rinehart Collection is a selection of more than 800 glass plate negatives from photographs of Native American leaders who attended the Trans-Mississippi Exposition and Indian Congress in Omaha, Neb., in 1898.
The treasures at the Haskell University Cultural Center extend beyond the walls of the museum. Just outside the center is the Garden of Healing, a collection of plants native to the area and used by Native Americans for centuries to help with burns, wounds, insect bites, and inflammation. They include echinacea, sage and blue verbena.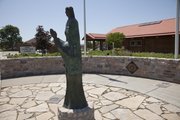 Several hundred yards to the south of the museum, and just north of the Baker Wetlands, is the Haskell Medicine Wheel Earthwork, which was designed by Haskell professors, students, and crop artist Stan Herd in 1992 to commemorate the 500th anniversary of Christopher Columbus' arrival.
This part of America's history and heritage, the long, complicated relationship between Native people and white culture, is not something that can be fully understood with one trip to the Haskell Cultural Center, but a visit will no doubt bring new insights and new understanding. It is, as Armitage says, an "underused jewel," and a real treasure in our town.