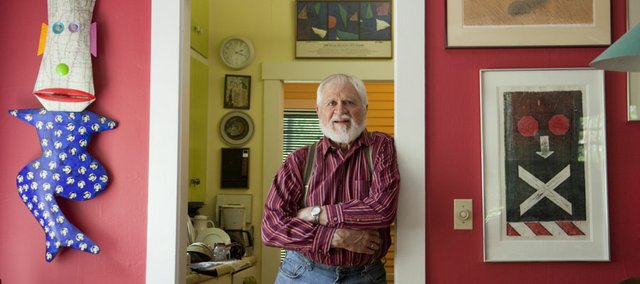 Now 80 years old, Jack Ozegovic is still creating art.
His methods are different — eye fatigue keeps him from observing landscapes directly, so he paints from photographs — but his passion is still vibrant and flowing, charging forth to emerge later in the form of woodcuts and drawings, lithographs and paintings.
An artist with a 25-year teaching career, Ozegovic has had art exhibitions in Chicago and Salt Lake City, in Pennsylvania, Connecticut and New York. He's had shows all over Michigan and Kansas. And his most recent exhibit is a series of watercolor paintings on display until Tuesday at the Douglas County Treasurer's Office, 1100 Mass. It was a project he worked on in January and February.
Since then he has been in a "holding pattern," the stage in which he contemplates where next to focus his artistic energy.
"For me it's healthy to stop for a while and reflect, maybe pick up dandelions, while I'm recomposing myself," said Ozegovic. "Some people are working all the time. I do not. I go in spurts. I take time off to let the dust settle, so to speak, until another energy reaches (me)."
Ozegovic is comfortable with periods of nonwork, using the in-between periods to garden and work on his home, pursuits that inspire and calm him, just as art does. He is not compulsive; he creates when inspired.
Ozegovic was first inspired by World War II images as a fourth-grader growing up in Michigan. Some of his early sketches were of airplanes and battleships. Later on, in junior high, he would paint the landscapes of his cousin's farm in Central Michigan: the barn, the battered orchards, the brick pig pen and the weathered wooden fence that surrounded it.
In high school a professional focus emerged, as did an obvious talent. An art teacher helped him purchase the set of paints they were using in class. And, influenced by Salvador Dali, he began to make surrealist paintings for friends. They encouraged him to continue.
Wanting to study professionally, Ozegovic worked at a commercial paper company after high school, hoarding paychecks for four years. Then he enrolled at the Boston Museum School of Art.
The school placed a great emphasis on drawing. Ozegovic and colleagues would trek to the park to draw from nature. The practice kept until November, when the temperatures were so frigid the ink in his pens would clot and freeze.
Ozegovic refined his drawing skills at Boston and was excited by the history of art and other artists. One day he was in the hallway delivering a speech on art, which another student overheard. Struck by his passion, the student advised Ozegovic to pursue teaching.
And so Ozegovic enrolled at Michigan State. The school's direction was starkly different from that of Boston. Instead of drawing from life, the focus fell on imagination, abstraction and invention. Instruction was intense and coursework demanding. There was also pressure to produce art swiftly, while maintaining a high GPA.
"When you're out of school and you run into a dead end, you sort of wait it out," he said. "But when you're threatened with failure and being run out of town, you're searching very desperately and intensely."
The time he broke through an artistic block, producing a new drip-and-splatter work at Michigan State, stands out in memory as one of the most satisfying moments of his career.
"It was like a rebirth, a new discovery of who I was and who I could be," he said.
Ozegovic is calm, centered and focused when he's working. He discounts the myth of the artist: that a person has to suffer to produce meaningful work.
"Good art has come from some very stable people," he said.
Ozegovic can only recall working from negative emotions once, when his father died. That period marks what Ozegovic calls his "angry work." He has gone through many phases: abstraction, drip and splatter, and spiritual landscapes. But all of his work tends to spring from positive sources, like creativity and excitement.
Ozegovic's home in Lawrence is an embodiment of his career. Paintings, drawings and lithographs hang from every wall. Some of the art is from former colleagues, and some is from students who have remained in touch. Much of the art is his own, though. He holds on to pieces that are particularly meaningful. One painting that hangs in his bedroom is from his series of spiritual landscapes. The first from the series came out spontaneously; the second was labored, and the third was a dead end. He didn't know how to finish. Ozegovic looks at one of those paintings now and feels inspired.
"This imaginary landscape … I look at that and say, maybe this is something you can return to and really get involved with, emotionally involved," he said. "I was looking for something beyond what you can see with your eyes … I think and believe there is a reality beyond that.
"There will be a period of upward movement and excitement. I can see it; I can feel it."
More like this story on Lawrence.com