Originally published May 12, 2012 at 12:14 a.m., updated May 14, 2012 at 11:30 a.m.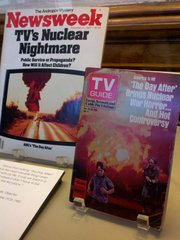 'The Day After: Living in Fear'
"The Day After: Living in Fear" opened Friday and will be on display until mid-October at the Watkins Community Museum of History, 1047 Mass. It's in the J.B. Watkins office, a small gallery just off the museum's permanent exhibits on the third floor.
Reunion planned
The Watkins Community Museum of History is organizing a reunion for cast members and extras who appeared in "The Day After."
Details have not been finalized, but the event is tentatively scheduled for the weekend of June 30 at the museum, 1047 Mass. For updates, check watkinsmuseum.org, find Watkins Community Museum on Facebook, or send email to apierron@watkinsmuseum.org.
Chelsea Kapfer was just 7 when she perched on Massachusetts Street and watched buildings, cars and people fall victim to nuclear fallout during filming for "The Day After."
Responding to an invitation in the movie's trailer, Kapfer wrote the government for a free nuclear preparedness kit. Dissatisfied when she received merely pamphlets, Kapfer had her father help her gather water and MREs — which she kept by her bed for the next couple of years.
"I remember being very, very afraid," Kapfer says. "Especially seeing my mother's storefront with the broken-out glass and thinking, 'This could really happen,' it was pretty intense."
Thirty years later, fear surrounding the movie is the focus of a new exhibit at the Watkins Community Museum of History. Not only did "The Day After" affect everyday Lawrence residents, its national and global influence spurred political efforts to reduce the threat of nuclear war, according to the museum and Kansas University Museum Studies graduate students who curated the exhibit.
"Who would've thought that a project that started here in Lawrence … could have that kind of impact across the world?" says Steve Nowak, executive director of the Douglas County Historical Society.
The made-for-TV movie starring Jason Robards aired on ABC in 1983, after 21 days of filming in summer 1982. Imdb.com describes it as "A graphic, disturbing film about the effects of a devastating nuclear holocaust on small-town residents of eastern Kansas."
The attack scene shows mushroom clouds exploding over the horizon and people being vaporized, first into skeletons, then into nothing. Mayhem erupts.
But what happens next is what makes the movie so poignant, Nowak says. While nearby Kansas City is destroyed, Lawrence residents are depicted trying to survive the ugliness of a post-nuclear world.
"The movie's portrayal of the realities of a nuclear war put it in a different light," he says. "It wasn't this abstract thing anymore. It was something that affected people."
• • •
The Watkins exhibit features a time line of nuclear history, starting with scientific research for an atomic bomb in 1942. The country's largest anti-nuke protest was in New York, a few months before "The Day After" began filming.
Black and white photographs, donated to the museum by the Lawrence Coalition for Peace and Justice, show blown-out windows on Massachusetts Street and a sea of cots for the injured in a makeshift hospital at Allen Fieldhouse during filming.
Other memorabilia includes a handbill calling for extras, a copy of the script and a newspaper advertisement from the Lawrence Free Methodist Church — one example of churches capitalizing on a heightened fear of death to share their message of salvation.
"If you saw 'The Day After,' you need to read this," the ad heralds. "Jesus Christ is God's perfect plan for man."
Controversy surrounding the movie made the front page of national news publications, also depicted in the Watkins exhibit.
The Nov. 21, 1983, cover of Newsweek features a mushroom cloud and the headline, "TV's Nuclear Nightmare: Public Service or Propaganda? How Will It Affect Children?"
A USA Today centerpiece asks, "Is 'Day After' too real? TV stages a nightmare."
In preparation for the movie's airing later that week, parents and psychological experts had set up group screenings to help viewers cope with emotional reactions, the newspaper reports. Even the White House prepped a series of public appearances and articles emphasizing President Ronald Reagan's desire for arms control.
• • •
Members of Bruce Scherting's introduction to museum exhibit and design class say they were surprised to learn during their research that the film was shown in other countries, including Europe, Australia and South America. It wasn't until several years later, they say, but the movie even aired in Russia.
"We didn't know there was a huge impact all across the United States and all over the world," says Mireia Beas Moix, a second-year graduate student from Barcelona.
The movie's broad impact also surprised graduate student Kristy McKinney, of Lawrence, who is 53. She was living in Baldwin City, expecting her first child and still fearful of a nuclear attack when filming took place.
"Growing up in the Cold War, I remember the bomb raids, the fallout shelters in our public schools," she says. "It was really frightening for me to even think about bringing a baby into this world."
• • •
"The Day After" — and preceding decades of perceived nuclear threat — did not scare everyone.
Clayton Hunter, Kansas City, Kan., was one of 2,500 volunteers who appeared as extras in the film.
Hunter, then a KU student, says he and some friends signed up for kicks, mainly just to say they were in a movie.
"Basically all we did was lay on the floor or lay on cots in the fieldhouse," he said. "You were supposed to wear grubby clothes, you got bandaged up, they took dirt and grime and threw it all over you."
After a full day of "actions" and "cuts," and later watching the movie in full, Hunter says he wasn't emotionally affected. "It all seemed kind of fake."
Kapfer, 39, however, still keeps an emergency preparedness kit in her Lawrence home, including five days' worth of water, energy bars, peanut butter, a first-aid kit and extra shoes.
Now, she says, she knows tornados are more likely than nuclear bombs. Still, she believes "The Day After" helped instill a sense of importance for being ready.
"It's not like I'm really in fear," she says, "I just like to be prepared for anything."