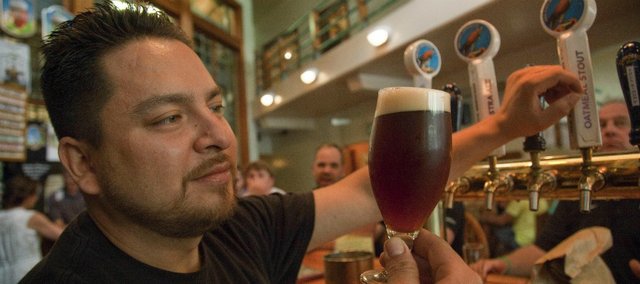 It's American Craft Beer Week, and at least here in Lawrence, it's not about competition.
It's about coming together — over beer, of course.
For what organizers think is the first such collaboration in these parts, Lawrence home-brewers teamed up with a Lawrence brewery to create a custom brew to celebrate the week.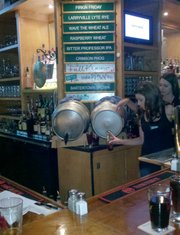 Join the Club
Join the club
The Lawrence Brewers Guild meets the first Tuesday of every month. For more information, visit the group's website, lawrencebrewers.org.
American Craft Beer Week Events
Looking for an opportunity/excuse to try some craft beer this week?
23rd Street Brewery has limited quantities of Full Kimono and 23rd Street/LBG India Brown Ale on tap. Other events:
• Full Kimono Firkin Tapping, 7 p.m. Tuesday at Free State Brewery, 636 Mass. Besides the beer, they're planning live music outside on the porch.
• Beer Trivia Night, 8:30 p.m. Wednesday at Free State. An evening of trivia with a beer theme, plus prizes.
• Cottin's Hardware Farmers Market, 4 p.m.-6:30 p.m., 1832 Mass. In addition to local produce, live music and hot food, they'll be serving Free State beer.
• Tour the Taps, through Sunday at Bird Dog Bar inside the Oread Hotel, 1200 Oread Ave. Get a punch card, try all 14 craft beers and receive two pint glasses. The bar is featuring a new beer and food pairing each day.
Its creators say 23rd Street/LBG India Brown Ale is off the beaten path, even for an independent brewery. The team chose a more experimental malt and eschewed 23rd Street Brewery's house yeast for a strain only the amateurs had tried before.
"We call it a home-brew twist," says Andy Booth, Lawrence, one of the Lawrence Brewers Guild members who joined 23rd Street head brewer, Bryan "Bucky" Buckingham, on the project.
At Buckingham's invitation, Booth and five other home-brewers from the guild — which counts more than 120 members — met for a brainstorming session. They threw out ideas, went back and forth over Belgian versus hoppier styles. Buckingham said they settled on chocolate rye malt for a "curveball" ingredient, one not even he had used before.
"I'm pretty experimental, and I like to push the envelope a little here," Buckingham says. "I want something a little outrageous."
On Easter Sunday, the team squeezed into 23rd Street's brewing loft. Each brewer got to stir the mash and measure out hops. Buckingham made them all help clean the kettle, too.
"If I could have fit, like, 20 home-brewers up there I totally would have," Buckingham says.
The resulting ale — on tap for a limited time at 23rd Street — is a rich brown color but light in body. It's got a lot of coffee flavor, a little citrus and more than a hint of chocolate.
Home-brewers, Buckingham says, are great at coming up with recipes. Furthermore, he says, without them you wouldn't have professional brewers.
"Home-brewers are people, too," he laughs.
Lawrence's home-brewing clan happens to be people who are very serious about beer.
"Definitely geek-ville when it comes to brewing," says brewer Jeff Jensen, Lawrence, who also helped on the collaboration brew.
Their equipment ranges from simple stovetop setups to Frankenstein-like laboratories that fill half a garage, Jensen says. (Luckily for Jensen, his wife brews, too.)
Brewer Rob Martin, another collaborator, was a member of an Iowa brewers' club before moving to Lawrence, but he said it was more focused on drinking, while Lawrence's club is much larger and focuses more on craftsmanship and learning.
"This one's much more organized," he says, "but not to the point of being regimented."
Monthly club meetings draw 40 to 60 members. Gadget-loving members may bring in shiny new — or homespun — equipment to show off, and sometimes to loan out. Each person tries to bring some of his or her own home-brew. They have speakers. They plan field trips. Jensen, the club's librarian, totes a collection of 50 or so brewing books to each meeting and checks them out to members.
A few members even organize beer-centric charitable fund raisers, which fellow brewers always support.
"It's just a sharing community," Jensen says.
Same goes for the professional brewers who collaborated to create another custom brew in honor of beer week.
Not unlike the home-brew team, the pros — Buckingham, Free State Brewery's head of downtown brewing, Geoff Deman, and Topeka's Blind Tiger Brewery's brewmaster, John Dean — wanted to "get out of their comfort zones," Deman said. Turns out, none of them had ever brewed an imperial red.
And Full Kimono was born — a strong but smooth concoction they described as an imperial red style ale with an IPA twist, available for a limited time at all three breweries. Its 10 percent alcohol content — double that of most beers — means you'll get it only one small glass at a time.
Buckingham, Deman and Dean have been friends a long time. Sharing ideas, they say, is a good thing.
"Nobody's going out of business because of it — we're all growing," Dean says.
American Craft Beer Week is a chance to highlight craftsmanship and, hopefully, bring new fans into the fold, Deman says.
"More and more consumers are coming to craft beer all the time," Deman says. "They want quality."
Business news stories pitting brewery against brewery frustrate and annoy Buckingham.
"There's not this competition that people like to think … it's just about the beer," Buckingham says. He shrugs, one hand palm-up, glass of India Brown in the other. "It's beer, man."
— Features reporter Sara Shepherd can be reached at 832-7187.