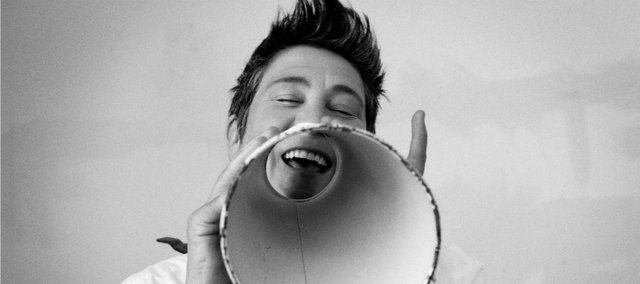 She has never been to Lawrence before, but there will still be a certain familiarity when k.d. lang arrives with her band, the Siss Boom Bang, for their concert Sunday at the Lied Center.
Past Event
Sunday, May 20, 2012, 7:30 p.m.
Lied Center, 1600 Stewart Drive, KU campus, Lawrence
All ages / $40 - $45
Win tickets to see k.d. lang in concert
Do you have a "Constant Craving" to see k.d. lang in concert? Now's your chance! We have two pairs of tickets to giveaway to two lucky winners when k.d. performs with her band the Siss Boom Bang at the Lied Center this Sunday, May 20th, at 7:30 p.m.
To enter, submit a photo below that best illustrates why you're the number 1 k.d. lang fan and deserve to go. This could be a photo of you in a k.d. lang t-shirt, holding up a k.d lang CD, or rocking out to a k.d lang song! Let your creative spirit shine!
We'll draw two winners from all entries received on Friday, May 18, at noon, so hurry and enter today!
To enter, visit lawrence.com/kdlang
Lang was born amid rippling grass, wide blue skies and the quiet of the Canadian prairie.
"I know what it's like to grow up with the wind and the space and the silence," she says.
On her most recent album, 2011's Sing it Loud, elements of the country-rock sound that defined lang's early work meld effortlessly with the intelligent pop of her 1992 smash Ingénue. Soaring above the delicate piano and shimmering steel guitar is that rich, resonating voice that Tony Bennett once dubbed the "best of her generation."
Lang spoke to Lawrence.com about touring with The Siss Boom Bang, what to expect when they come to Lawrence and her unforgettably jubilant performance of "Jingle Bell Rock" on Pee Wee's Playhouse Christmas Special.
Lauren Williamson: What are you looking forward to about playing in Lawrence?
k.d. lang: I always find the Kansas audiences great, really fun and responsive, and they like to listen to music. Every time I've played in Kansas I've really, really enjoyed it.
LW: The Alberta Ballet recently announced a partnership with you to create a ballet inspired by the prairie. What's that collaboration going to involve?
KL: I don't do that much, really. I give them my blessings and they basically choreograph songs of their choosing of mine, and I get to be surprised by it. [Laughs] Thank God I don't have to dance in it.
LW: On your most recent record and on tour, you're working with your own band for the first time in about 20 years. How is the dynamic different?
KL: There's a camaraderie there. There's a lot of love. It's a democracy in terms of making selections musically. I just feel very supported and energized by the family atmosphere we've created as a band.
LW: How involved were they with the writing process on Sing it Loud?
KL: Very. I think all except one or two [songs] were collaborative. Josh Grange, Daniel Clarke and Joe Pisapia were the songwriters on the last record. I love collaborating. I really feel like I'm at my best when I'm doing collaborative work. It's just exciting to have other peoples' influences and input so I don't feel so insular and introspective. It happens more quickly. It's more fun. I think it's more creative because it's coming from a lot of different channels. Or I should say, it can be. It can be more creative. I don't like to be definitive.
LW: The sound on Sing it Loud is very lush and layered. What inspired that direction?
KL: I guess it's just the way I hear, and certainly with Joe Pisapia being my production partner and the engineer on the record—he has his own studio and had been working with the band Guster coming from sort of a pop/rock arena and coming in working with me, and then I have my history of music. I think it's probably the combination of both of us and the way we love to hear music.
LW: How's the tour been going so far?
KL: Oh, very well. It went so well last year that we decided to come again this summer and keep touring. It wasn't a necessity for us. It was really our choosing to come back out and keep playing this record.
LW: What can people expect from the show in Lawrence?
KL: This year we're incorporating more from the back catalog, so it's a retrospective in a way sort of highlighting Sing it Loud.
LW: What are some of your favorite songs to pull out from your catalog on tour?
KL: That changes. It depends on the band and my mood and what record I'm touring currently. I don't want to tell you what we're doing, blow the surprise, but it's a pretty broad spectrum of music we're playing on this tour. It's kind of like Eclectic Radio. It's definitely not one vein of music.
LW: How do you keep things fresh after being on the road for so many years?
KL: Music is just so vast and so infinite. I think if you allow the music to really be your guide, or your muse be your guide, it's pretty easy. I made a decision a long, long time ago that if I wasn't having fun on stage, then just go home. It's not worth anybody's time or money or effort. I made that pact with myself and I think the Siss Boom Bang are definitely with me on that one. The traveling, it gets pretty taxing on your body mind and spirit, but when you get up there on stage, that's the thing that rejuvenates you, so we give it our all every night.
LW: Speaking of making things fun, one of my favorite, favorite memories of you is your performance of "Jingle Bell Rock" on Pee Wee's Playhouse Christmas Special. Could you tell me a little bit of the back-story behind that?
KL: [Laughs] Oh, well, that was just totally crazy, as you can imagine. I mean, Grace Jones, Doris Day. It was just a madhouse, and of course the set was so much fun to be on. Pee Wee's crazy. Paul Reubens is crazy. And I was super young and super excited to be a part of it, so the energy is just bursting all around us. It was really hard to do anything but what I did, which was basically just spaz out. It was a lot of fun.
LW: What are your plans for your next record?
KL: We're not writing right now. We'll tour this until October, and then we'll probably take a few months off. We'll probably start the writing process late fall or the beginning of next year—write and record a record next year, and put it out in 2014 probably.
It takes a long time to do all that. I like to take my time. I don't really have that much time to write on the road. It's pretty much travel all day, get to the show, sleep, travel all day, get to the show kind of thing. I really, really enjoy the space and the freedom and the sort of wonder of the creative process. I like to see what happens to my life when I go through that.