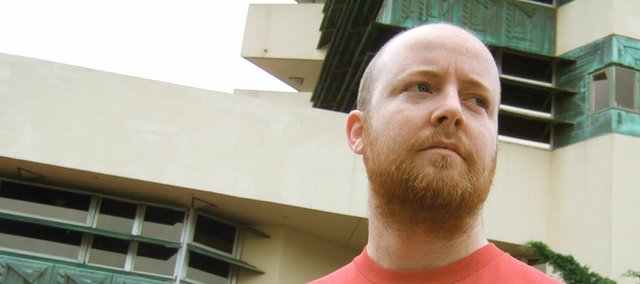 This is a project that's going places — or at least that's the hope.
After deciding to part ways with the Record Machine, a label in Kansas City, singer and musician Sam Billen is self-producing his latest album, "Places," with the help of a Kickstarter project. It's new territory for Billen, who's put out records on and off, with and without his former band The Billions, for about 12 years. He's worked with Kickstarter before and self-produced before. But "Places" just may be his most ambitious project to date.
Kickstarter is a website on which artists can get funding for projects by soliciting donations in exchange for goodies such as an early release or signed copy of the work. But if a project doesn't raise its goal by its expiration date, none of the money goes to the work (it's all refunded to the donors). At the time of publication, Billen had $3,497 left to raise and 22 days to do it.
Time to go viral.
Billen's project has been featured on Kickstarter's homepage and he's been quoted by the Wall Street Journal. His Facebook page and blog are dedicated to promo, with videos, song samples and cute exploitation of his young daughter.
His $5,000 goal is higher than some but is "realistic for achieving my goals, and I feel like this album will be worth it," he says. It'll cover mastering by "top of the top" Peerless Mastering, plus collage artwork by Billen's brother Dan Billen and a special paper CD case constructed by their dad, Bill.
"The whole thing is an art project," Sam Billen said. "I want every aspect to be beautiful."
As for the music, Billen says it's some of his best — and most personal — work. In the past, he's had success releasing instrumental and acoustic songs but says he wanted to "dig deeper" and "avoid the standard pop format" to push himself with bigger, fuller orchestration and experimentation, including some recording of trombone and violin. Some of the songs on "Places" have been works in progress for more than a decade but all, he says, reflect an emotional clarity that runs through grief and depression to the happiness of life with his family.
The "constant flux" of online self-promotion and waiting for backers can be a little nerve-wracking, but he says he's happy with the level of creative control it's given him. He's got no hard feelings against the labels he's worked with but "it's just gratifying," he says of the Kickstarter method.
To hear a song from "Places" called "Saltine" or contribute to the project, follow the link here.