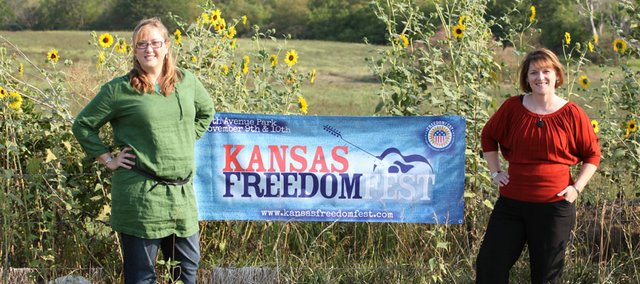 Saturday, November 3, 2012
More than 20,000 military members and veterans live in Leavenworth County. Organizers hope a number of them will spend their Veterans Day weekend at Kansas FreedomFest, a two-day country music festival Friday and Saturday in Leavenworth.
The event, free to veterans and active duty members, will honor their contributions to the country while raising money for veterans-support organizations.
"We take it for granted what veterans and those on active duty have actually done on a day-to-day basis," event organizer Hope Corizzo says. "I want us to say we have not forgotten those putting their lives on the line for us to live the way we live. You aren't just in the army from 9 to 5. You live and breathe it and the family lives and breathes it 24 hours a day."
The event is drawing country music artists like Travis Marvin, Clay Walker and Aaron Tippin on Saturday night. There will also be a chili cook-off, motorcycle show and a singing competition.
Corizzo, of Easton, says none of it would of happened if was not for two "very type-A Army wives" — herself and Keira Jones, of Leavenworth. The two have been planning this event for nearly the last year.
Jones says there had traditionally been a country music concert during Veterans Day weekend, but it fell by the wayside last year with Leavenworth community members busy planning the Veterans Day parade, one of the largest Veterans Day parades in the region.
So the two got to work planning, contacting the city and covering all their bases.
Jones and Corizzo say a tight economy made getting donations and sponsorship difficult.
But the two pieced event sponsorship together slowly but surely.
"The partnerships that we made have been passionate," Jones said. "It has been heart-warming and made some of the hard parts, the logistics, a lot easier."
They are used to challenges, having had husbands deployed in war zones or overseas, missing birthdays and anniversaries.
They both have seen first-hand some of the difficulties veterans go through, making it too important to them to put on such an event. Various veterans assistance services, including the Veterans Administration, will also be on hand to provide information and assistance to veterans.
"I've heard organizations say we have these funds, we have these resources, but we can't get to the veterans. They need to know that these resources are out there," Jones said.
Corizzo and Jones both mentioned that they could not have planned the event alone and thanked all of those who helped plan and sponser it. As well as thanking another group, the veterans.
"They are the back bone of what has created our military our future military and depending on your frame of reference a big part of the country," Corizzo said
Tickets to the festival cost $30 for civilians. More information, including the event schedule, is available online at
More like this story on Lawrence.com