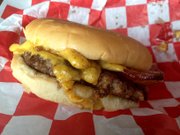 Most places' bacon burgers are so named because they have bacon on top. This one not only has a couple slices of smoky, savory, thick-cut bacon on top, but the patty also has ground-up bacon in it — a 50/50 ratio of bacon to beef. Add grilled onions, American cheese and special sauce and you have one hot, melty and really bacony burger.
Where to get it: Burgers by Bigg's, 4801 Bauer Farm Drive. (It's also on the menu at Bigg's Barbecue, 2429 Iowa St.)
What you'll pay: $5.29 for a single, $6.29 for a double, plus tax. Fries are extra.
Try it with: Definitely not extra bacon. Maybe a side salad instead.
Also on the menu: About 10 burgers — the Farmer Burger (topped with fried egg, cheese, bacon and ham) and the Western Burger (with onion rings, bacon, cheese and barbecue sauce) are among the most stacked — grilled cheese sandwiches, sweet potato fries and milkshakes. You can substitute chicken for beef on any burger and get a gluten-free bun.
— Off The Beaten Plate highlights some of the more exotic, oddly named or inventively concocted (for better or worse) dishes from local menus. Know of an offbeat menu item we should check out? Email food and features reporter Sara Shepherd at sshepherd@ljworld.com. Tweet her at Twitter.com/KCSSara.