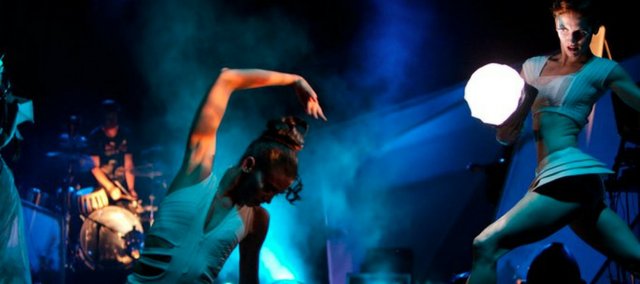 Anthony Magliano has no shortage of artistic ambition. The founder and artistic director of Kansas City-based performance troupe Quixotic goes way beyond his roots as a percussionist and composer.
"We want to create experiences, not just performances," he says.
Quixotic, which performs at the Lied Center this Friday, combines a wide range of performance art. The show features live, original music, dancers, acrobats, and animation to create a unique experience for audiences.
"We're trying to pull as much emotion out of (audiences) as possible," Magliano says. "We want them leaving inspired."
It's hard to imagine they wouldn't be. Dancers weave through the stage interacting with each other and animated images. Exotic costumes give the performers an elaborate and magical look. Lighting causes makeup to glow and change colors. And all of it is backed by a live band.
"We're painting the stage with all these elements," he says. "It's like the stage is a blank canvas, and we're creating something visual and moving."
It all started with Magliano and a group of friends attempting to do something new. They worked in old, abandoned warehouses to create the show and would perform once a year or so at annual events.
"Then we started figuring out how to do more with the technology," he says. "Before long, the popularity grew, and we were able to start doing more shows."
Technology is a big part of what Quixotic does. Video players project animation onto large screens. Trapeze artists glide on and over uniquely engineered structures. As the technology and the troupe's understanding of how to use it improved, so did the grandeur and complexity of the show.
"We have a heavy dance foundation," Magliano says, "but now we can do more dimensional work. There's more complex animation and more activity with the visuals. The dancers react and interact with the animation."
His goal now is to get the show in front of as many people as possible. To that end, Quixotic has been performing all over the U.S. – Texas, Vermont, Colorado, California, and, of course, Kansas City.
"We're reaching out to all demographics," he says, "especially the younger demographic. We want to get them more excited about theater."
The response has been enthusiastic. A brief scan of Quixotic's Facebook page (facebook.com/QuixoticFusion) shows a plethora of praise from past audience members.
Lied audiences will get a special treat: The company is debuting new material.
"We're premiering a new singer – Leanna Rachel," Magliano says. "We created some really terrific new songs with her, and we're excited to have people hear them."
Magliano's ambition is untamed. As the show keeps evolving and audiences keep growing, so does his vision.
"We want to keep making it bigger," he says. "We want to redefine the theater experience."
So long as the technology keeps improving and audiences keep coming, he may just get his way.
Quixotic performs at the Lied Center Friday at 7:30pm. Tickets are available by calling the box office at 785-864-2787 or online at lied.ku.edu.