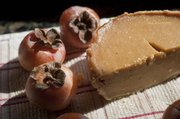 Ingredients
1 9-inch pie shell
3 eggs
1/4 cup light brown sugar
1/4 cup granulated sugar
1 teaspoon vanilla
1 teaspoon cinnamon
9 ounces coconut milk
1.5 cups persimmon pulp
1 teaspoon lemon juice
2 tablespoons butter, melted
1/4 teaspoon salt
Everyone knows I like to cook. This pie came about as sort of a dare.
It started because of a Garden Calendar story in the Journal-World on persimmons and how some old folk tales told of the seeds being able to predict the weather for the winter.
I was off to document a persimmon tree. There are not very many persimmon trees around; I've seen one for years in front of Strong Hall on Kansas University's campus, two or three small ones near KJHK's former studio, and a few around town and on old farm sites, where it was probably a fall tradition to make something from the small, fruity delights.

After taking the photos, I brought a few persimmons back to the News Center. Go! editor Katie Bean challenged me to make a persimmon pie — and share it at work, of course. She found a recipe for me to start from, but I modified it in the course of baking.
I took off one Sunday morning to get a box of fruit. The tree I knew of was loaded with fruit, but the right ones are sometimes hard to distinguish. Ones on the ground give one a hint on what to look for — they have a translucent look; on the tree, they might seem hard and are bitter when tasted.
I picked one from the ground and gave a squeeze, and out came this thick, pulp-like substance. Picking up some from the ground and using a ladder, I picked a small box of fruit, thinking I had enough.
Once home, I started to find a way to get to the sweet pulp. The big problem is getting the plum/strawberry-like pulp out and away from the seeds.

First I just squeezed the fruit, and boy what a mess — and it was time-consuming. Next I figured out I could invert the fruit where the top became the bottom and pinched the fruit, and the pulp came out from where the stem was.
After you have a good amount of pulp, take a strainer and push the mixture through, and you have a jelly-like material. (I now think you could do this from the start and save the squeezing.) This worked well but again was time-consuming. It was work, but good things take time, especially in cooking.
It was nearly three hours of work to get what I thought was a little over 2.5 cups of pulp. The pie recipe this is based on required 1 cup, but I wanted to add some more.
I took a store-bought pie crust and browned it lightly in a 450 degree oven to start. For the filling, combine 3 eggs, 1/4 cup each light brown sugar and white sugar, 1 teaspoon real Mexican vanilla and 1 teaspoon cinnamon.
The original recipe called for evaporated milk; I took a spin-off and used coconut milk. The recipe called for a can, but use 1/3 less so you can add more fruit, making the pie sweeter and thick with fruit. After adding about 9 ounces of coconut milk, add in 1.5 cups of persimmon fruit, 1 teaspoon lemon juice, 2 tablespoons melted butter and a dash of salt. Pop it in the oven for 30-40 minutes.
Now, if you're any kind of cook, you'll see this resembles a custard pie, so I'd put a piece of aluminum foil over it while it cooks to keep it from burning.
After 40 minutes, if it's not done, reduce the temperature to 350 degrees, and after more 20 minutes, out it comes. You can shake the pie, and if it wiggles somewhat, it's not done — it should be firm.

When it comes out, sprinkle it with a small amount of cinnamon, and you've got a pie. It's sort of pumpkin-like but has a sweeter taste and goes down quickly. With a dollop of vanilla ice cream and cup of coffee, you're in heaven.
— Photographer Richard Gwin can be reached at 832-6351.