Sunday, November 18, 2012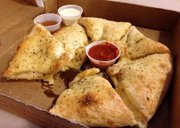 To many a Lawrencian past and present, an order of Bonez is a doughy, cheesy, buttery wreath of happiness.
To elaborate, that wreath would be a huge breadstick filled with mozzarella, provolone and cheddar cheeses, twisted into a circle, brushed with garlic butter, sprinkled with herbs and baked to a golden brown.
It's hot, gooey, crispy, savory and dip-able. And undoubtedly not very healthy ... but that's not the point of this feature, now is it?
Where to get it: Pyramid Pizza, 1029 Massachusetts St.
What you'll pay: $5.99 plus tax
Try it with: Marinara sauce and/or ranch dressing and/or honey — Pyramid's best-known dipping sauce for polishing off their signature braided pizza crusts.
Also on the menu: Pepperoni sticks (which the menu promises will "satisfy even the strongest pepperoni cravings"), buffalo wings and a lineup of toasted sandwiches such as the Philly/Italy inspired Italian Stallion. There's pizza by the slice or whole pies — the Ranchilicious, West Coast Style and Meatball Grinder are among Pyramid's more unique specialty pizzas.
Restaurant website: pyramidpizzalawrence.com
— Off The Beaten Plate highlights some of the more exotic, oddly named or inventively concocted (for better or worse) dishes from local menus. Know of an offbeat menu item we should check out? Email food and features reporter Sara Shepherd at sshepherd@ljworld.com. Tweet her at Twitter.com/KCSSara.