Sunday, November 18, 2012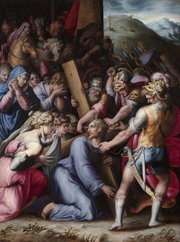 Visitors to Kansas University's Spencer Museum of Art will have an additional seven weeks to take in "Giorgio Vasari and Court Culture in Late Renaissance Italy."
The exhibit, originally scheduled to close Dec. 9, has been extended through Jan. 27.
The museum's circa-1555 Vasari painting, "Christ Carrying the Cross," is the centerpiece of the exhibit, which also includes loaned works from KU's Spencer Research Library and the Nelson-Atkins Museum of Art in Kansas City, Mo.
The museum has secured loan extensions from the Nelson-Atkins Museum, and the library and is working to secure extensions for several other loaned works, says Gina Kaufmann, the museum's coordinator of external communications.
The extension won't push back any other exhibits scheduled to open after it, but it will mean the museum will rush to dismantle it in time to open "An Errant Line," an installation by Ann Hamilton and Cynthia Schira set to open March 2.
"We've got some people who are going to go into high gear to make that all possible," Kaufmann says.
More like this story on Lawrence.com