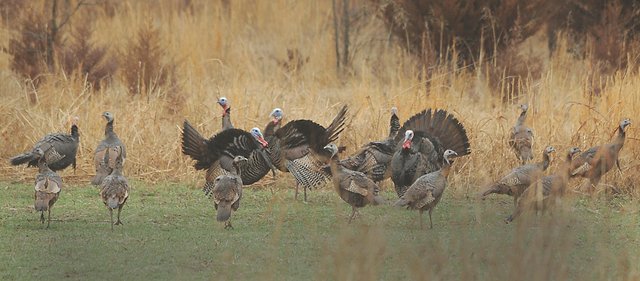 Tuesday, November 20, 2012
Turkey-frying precautions
The city of Lawrence advises against deep-frying turkey because of the risk of fire. For those who do choose to fry their turkeys, an advisory on the city website offers these safety precautions:
• Use fryer only outdoors, a safe distance from buildings or other combustible material. Never use a fryer on a wooden deck.
• Ensure the fryer is on a flat surface to minimize risk of tipping. Do not overfill, to avoid spillover.
• Never leave fryer unattended. Most fryers do not have thermostats, and the oil will continue to heat until it catches fire.
• Never let children or pets near fryer. Even hours after use, the oil can remain dangerously hot.
• Ensure turkey is completely thawed before placing in fryer. Be wary of marinades, which contain water that can cause oil to spillover (remember, water and oil don't mix).
• Never use water to extinguish a grease fire. Keep a fire extinguisher handy and immediately call 911 if fire becomes out of control.
Eating wild turkey
Lone Star hunter Richard Rawlings eats deep-fried wild turkey each year for Thanksgiving. He offers the following cooking tips:
• To measure the right amount of oil, place turkey in fryer and cover with water. Remove turkey and note the level of the water line — that's how much oil you'll need. However, use a little less, because oil expands.
• Once oil is heated above 350F, almost to 400F, place turkey in fryer. Watch carefully and cut back heat as the temperature begins to rise.
• When the turkey is cooked, allow it to set 5 to 10 minutes before carving. This allows juices to soak into the bird, keeping it moist, instead of running out when its cut into immediately.
• Leftovers? Rawlings says wild turkey leftovers aren't that good alone. He suggests picking the carcass and making white-bean chili.
Richard Rawlings had been keeping an eye on this group of turkeys.
He knew where the flock fed in the mornings, had a hunch about where they roosted at night and took a guess at where they "nooned." Looking to intercept them, Rawlings headed out around lunchtime Tuesday last week, slithering and creeping through the woods, slyly peering over ridges so as to spot the birds before they spotted him.
"I guessed right," he said.
In just an hour, less than 2 miles from his home in Lone Star, Rawlings spied and shot the turkey he and his family will be deep-frying and eating Thursday for Thanksgiving dinner.
It sounds quaint and pastoral, the idea of traipsing through a field just before Thanksgiving and shooting your own turkey to bring home for the holiday meal. But wild turkeys are very different birds — and, hunters say, a lot harder to bag this time of year — than the fat, oven-ready Butterballs most of us are accustomed to.
"They're a leaner, meaner turkey," said Glen Sohl, an avid hunter who also lives in Lone Star.
Take these facts from the National Wild Turkey Federation:
• Wild turkeys rarely weigh more than 24 pounds, while domestic turkeys regularly grow to more than 40 pounds.
• Wild turkeys can run up to 25 mph (that's faster than Usain Bolt's speed of 23.35 mph in 100-meter dash at this summer's Olympics).
• While most domestic turkeys are too heavy to fly, wild ones can fly up to 55 miles per hour.
"You don't get to eat their wings and their legs, because they use them," Sohl said. "They're not the plump, meaty appendage that it is for a pen-raised bird that just sits there all day. Genetically, they've engineered the pen birds for large breasts, and wild turkeys use theirs as a muscle."
The taste, Sohl said, isn't exactly gamey but has a stronger turkey flavor, more like dark meat.
And there are fewer pieces to go around.
"The drumsticks are full of sinew," Rawlings said. "You'd have some complaints at the Renaissance Festival if you were selling wild turkey legs."
Wild turkey, it's what's for dinner
For Rawlings, one wild turkey — even sans drumsticks — is enough for his traditionally small Thanksgiving dinners, plus a few leftovers that evening.
Rawlings' wife, two sons and mother-in-law eat it every year (even though, some years, it's a turkey Rawlings shot during the spring season and froze). Not only does wild turkey taste best fried, Rawlings said, it's much faster than slow-roasting in the oven.
Figuring the price of hunting permits and tags, plus the time it takes, catching your own turkey probably isn't cost-effective, Rawlings said. However, he enjoys the camaraderie, the sport and the close-up view of nature that comes with hunting.
He also likes the meat and appreciates that it's au naturel.
"I'm glad it's not pumped full of antibiotics and hormones," he said. "I like that."
Sohl agreed.
"They don't go through a kill line, they don't go through a feed lot," he said. "Not that there's anything wrong with those processes, but there's a difference."
Playing hard to get
At Sohl's house, Thanksgiving is usually open-door, smorgasbord style with up to 20 people, sometimes more. He said he likes serving wild turkey as a second option to the store-bought turkey and encouraging guests to enjoy the differences.
However, that's only when he has one.
And, at least as of a week ago, it didn't appear Sohl would be eating wild turkey this Thanksgiving.
"I've been out all week this week deer hunting, but also hoping I would run into some of the 40 turkeys that live on my property," he said. "But I haven't even seen them."
A number of hunters avoid spending time on turkeys in the fall because, they say, they're are easier to get in the spring.
In the spring, when turkeys are mating, hunters can pick a spot to hunker down and use a turkey call to coax the birds toward them. Fall hunting is more like tracking. Not only do you have to find a flock of turkeys, you have to sneak up on them.
"It's simply a matter of getting lucky," Sohl said.
According to the Kansas Department of Wildlife and Parks 2010-11 fall turkey harvest report, only 39 percent of active turkey hunters statewide got a fall bird, though more than 8,300 tried. Of those, almost half said they were only hunting turkey "opportunistically," while pursuing other game.
Even Rawlings — who usually purchases the maximum number of permits and hunts turkeys whenever they're in season — was feeling especially excited after shooting a fresh turkey just in time for Thanksgiving.
"I lucked out," he said. "I stumbled into him."
— Features reporter Sara Shepherd can be reached at 832-7187. Follow her at Twitter.com/KCSSara.
More like this story on Lawrence.com