Saturday, November 24, 2012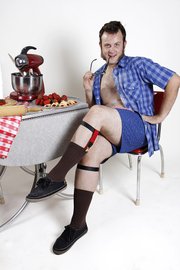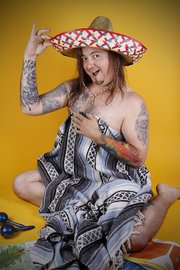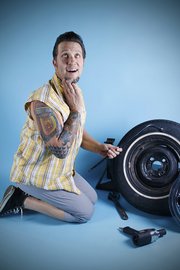 The pinup model appears distracted from baking, seated at a retro dinette table with crossed legs, garters, unbuttoned shirt and come-hither eyes. Strawberries are within reach.
Wait a second.
Those garters are holding up mid-calf, brown socks — and why does this model have muttonchops?
Mr. August is Lawrence resident Bobby Bierley, who, along with a handful of other guys, leaped far, far out of his comfort zone to model for the 2013 Daddy Oh! calendar. A Kansas City-area group called the Ink'd Girls dreamed it up after being inspired by a similarly silly male pinup photo shoot that went viral last year. Lawrence's Atomic Photography shot the photos. Sales of the calendar benefit Disabled Furry Friends, a Kansas City, Kan.-based group that helps disabled pets with medical and equipment costs.
"When it comes time to actually take the photo, and you're just standing there in your boxers in this cold studio, it's a little intimidating," Bierley says. "I kept repeating to myself during the photo shoot, and when I saw the photos afterward, 'it's for a good cause, it's for a good cause...'"
Besides Bierley in his sock-garters (not his, by the way — they're actually made of masking tape and suspenders), the calendar has men looking at old vinyls on a furry rug, making a kissy face while holding a shotgun, and wearing a blanket and not much else.
Racheal Major, owner of Atomic Photography, 313 E. Eighth St., said all the men were "really good sports," though shooting them was trickier than most of the women she normally photographs.
The "can you just emulate me?" approach to posing didn't work as well, she says laughing.
"Men are just a little bit less aware of their bodies than women are."
Major said most of the models are husbands or friends of the Ink'd Girls, and she recruited Bierley through a mutual friend.
Bierley, who writes a comic book called "Yellow" about a man who falls in love with a zombie, said he was once asked to model for a zombie wedding-themed photo shoot. That's his only other modeling experience.
"I had a lot more clothing on for that photo shoot," he says.
The $10 calendar is for sale online at inkdgirls.lish.com and in Lawrence at Made on Mass, 737 Massachusetts St., Lucky Paws Bakery and Unique Barktique, 4 E. Seventh St., and Frank's North Star Tavern, 508 Locust St.
For more information on the Ink'd Girls, visit theinkdgirls.com. For more information on Disabled Furry Friends, visit disabledfurryfriends.webs.com.