Sunday, November 25, 2012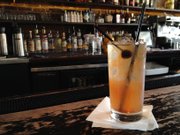 A reporter walks into a bar around 11 a.m. on a weekday and asks the black-haired, blue-eyed barista, "Is it too early for a Horsefeather?" To which he smiles and replies, in a heavy French accent, "It's the perfect time."
The coffee and wine bar affectionately referred to as "The Pig" serves mostly coffee in the mornings, but you can get a drink (even non-morning drinks like whiskey) as early as 9 a.m. The Pig makes their Horsefeathers with Old Overholt American rye whiskey, bitters and ginger beer, and serves them in a highball glass garnished with a gourmet maraschino cherry.
The hard stuff: Whiskey. Specifically, rye whiskey.
Where it's served: The Bourgeois Pig, 6 E. Ninth St.
What it costs: $7 plus tax.
When it's on special: Mondays. Horsefeathers are $5 all day.
Other libations at this location: Classic and signature cocktails — several made with house-infused vodka or gin — including Moscow Mules in copper mugs, a handful of wines and about two dozen craft beers. The Frenchman's favorite drink, at least en ce moment, is the Oriole, a signature cocktail with Aperol, Limoncello, fresh lemon and cava.
— Drink up. Stay classy. Don't forget to tip your bartender. And let us know if you want to suggest a libation for this feature — email sshepherd@ljworld.com or Tweet her at Twitter.com/KCSSara. Cheers.