Monday, November 26, 2012
Photo Gallery
Holiday party looks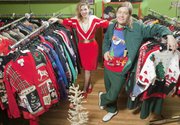 Holiday parties call for rich colors and a little sparkle. Here are outfit ideas from four downtown retailers, plus other holiday-perfect pieces and accessories from their stores.
Social events pepper the December calendar. There's everything from open houses to charity galas, ugly Christmas sweater parties to holiday office parties, casual family gatherings to New Year's Eve on the town.
And if ever there's a time to show up in something extra snazzy, it's this time of year. Holiday events merit — if not call for — rich colors and a little sparkle.
Need ideas?
We asked four downtown Lawrence merchants to style holiday outfits to share with us. Check out what they came up with.
Wild Man Vintage, 939 Massachusetts St.
This time of year, Wild Man Vintage devotes multiple racks to ugly Christmas sweaters.
There are roomy pullovers, tiny cardigans, gold thread, appliques, sweatshirts with puffy white snowflakes. They're bold, festive and — as billed — super ugly.
An ugly Christmas sweater with other vintage pieces makes a great party outfit. But Wild Man also has plenty of classics for other types of events, such as retro dresses, velvet pillbox hats and fur-trimmed winter coats for the ladies, and corduroy blazers, bow ties and even shimmery suspenders for the gents.
When putting together an outfit, store manager Holly Charlton says, color and accessories are key.
"Holidays are all about metallics — and bright red," she says.
Weaver's, 901 Massachusetts St.
The office party isn't all about partying. For many professionals, it's also an opportunity to dress up, mingle and make an impression — ideally a good one.
For men, if you're wearing business attire, be sure it fits correctly, Weaver's vice president Earl Reineman says. Sleeves should hit at the break of your wrist, not hang over your hands. There should be about an inch and a half of space between your torso and the front of the jacket. And if you button your jacket, always leave the bottom button undone.
Jazz up a professional suit with bright accessories. You can't go wrong with red, and that goes for women's attire, too.
Saffees, 911 Massachusetts St.
If you're not going to a formal event, you don't need a party dress. Accessorizing dresses up more versatile pieces to make them special-occasion worthy.
Saffees personal stylist Carol Hasiotis suggested an outfit in neutral colors but with a touch of shine.
She adds the following figure-flattering tips: You don't have to be stick-thin to wear skinny jeans — a good-fitting pair actually flatters many body types. Three-quarter sleeves can make arms look more slender (and show off pretty bracelets). Long necklaces can help elongate the appearance of the body. And a heeled shoe, even a small one, gives the illusion of longer legs.
Kieu's, 738 Massachusetts St.
Holiday party season is the time to be "fashionable and fearless," Kieu's staff says.
For a dressy Christmas party or New Year's Eve celebration, push the envelope in something you wouldn't don on an average night. A sequined dress with pops of color from accessories fits the bill. A red coat is festive and functional.
Kieu's adds that it's easy to pick apart an outfit like this and wear each piece in different ways for events throughout the season.
— Features reporter Sara Shepherd can be reached at 832-7187. Follow her at Twitter.com/KCSSara.