Tuesday, November 27, 2012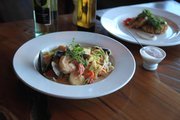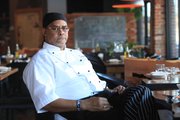 Lawrence's newest Italian restaurant might have opened in Topeka instead, undoubtedly under some other name.
But around the same time a deal on space in the capital city fell through, Jim Vaughn heard a restaurant here was for sale and decided to check it out.
"When I pulled into Lawrence and stood on this corner, I fell in love with the place," he said of 801 Massachusetts St., the unique building in the center of downtown, with its rounded-corner entrance, walls of windows and patio seating.
Vaughn named his new restaurant Intorno, an Italian word for round or around, to pay homage to the building's architecture and historic longtime tenant, the Round Corner Drug Store. Vaughn is the owner and executive chef, and his wife, Leslie Vaughn, is general manager.
At Intorno, Italian food doesn't translate into the overstuffed menus and trough-sized entrees of some Midwestern restaurants' approaches to the cuisine.
Like its understated, rustic-modern decor, Intorno's menu features a carefully selected lineup of dishes on a simple one-page menu.
"Food stacked this high, and plates this big?" Vaughn said, shaking his head while reaching up high then splaying his hands like someone telling a fish story. "I like unpretentious food."
Intorno's appetizer menu includes a stuffed and baked portobello mushroom, toasted ravioli and meaty, zingy crab cakes served with smears of both dill and adobo sauce, a recipe that Vaughn said has won a couple of awards.
"We use the best crab meat," Vaughn said.
Dinner entrees include baked lasagna, grilled chicken spidini and tenderloin Siciliano, a grilled and breaded cut finished with provel cheese in a mushroom wine sauce. From the pasta section, Vaughn said his linguini Monte Mara has been a customer favorite so far. A silky garlic cream sauce covers a bed of linguini with jumbo shrimp, scallops, mussels and clams.
The lunch menu includes meatball, grilled cheese and Italian club sandwiches, plus an antipasto salad plate of olives, salami, prosciutto and cheese.
Vaughn said his menu is an "ongoing process." There are a few dishes he wants to perfect before putting them on the menu and, depending on diner feedback, there are others he may take off.
When opening Intorno, his first restaurant, Vaughn said he wanted to keep things simple and stick with what he knew — and that's Italian.
After attending cooking school, Vaughn spent about 30 years cooking for Charlie Gitto's restaurants in St. Louis. He started as a cook and worked his way up to executive chef at Charlie Gitto's on The Hill, the Italian district of St. Louis.
"I found passion there, so I just stayed there," Vaughn said. "I love Italian food."
Several years ago Vaughn, burnt out and with failing knees, left work on the Hill. He cooked at a high school for several years and underwent a double knee replacement.
"After my knees healed I was ready to jump back in, and here I am," he said.
Esquina, the former restaurant at 801 Massachusetts St., served its last customers on Oct. 31, and Vaughn and his wife moved to Lawrence the following day. In less than a week, Intorno was open for business.
The restaurant didn't need major changes to the decor, and Vaughn purchased the space with all its equipment. Same story for most of the employees.
"I also inherited the help, too, and they're great," he said. "It's a good fit."