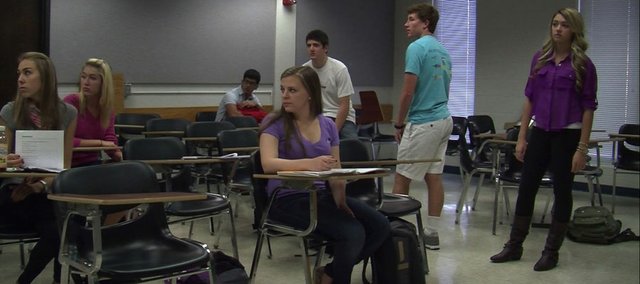 Tuesday, November 27, 2012
In mid-October, 20 Kansas University freshmen were given a charge: Make a movie in a month and a half.
None of them was majoring in film.
But here in late November, the group has followed through on its mission. The result, a film titled "Té Buffet of Life," will be shown at 7 p.m. Wednesday in the Kansas Union's Woodruff Auditorium.
The movie was written, directed, acted, produced and edited by those 20 freshmen. And though none of them was an experienced filmmaker, they did have one advantage: They all lived on the same floor of Gertrude Sellards Pearson residence hall.
"We were kind of all in it together, and none of us really knew what we were doing, in a way," said Shelby Golightly, a freshman from Maryville, Mo., who was one of the 20.
The students were part of a first-ever program offered to participants in the Mount Oread Scholars program designed for high-ability students: "living learning communities," in which students living nearby all take an introductory general-education course together along with a special seminar putting a spin on the subject.
In the case of these 20 freshmen, they're enrolled in an introductory film course taught by associate professor and film director Kevin Willmott. Their seminar focuses on high school films.
In the seminar, the students have watched such films as "The Breakfast Club" and "Heathers" to study the form, instructor Dan McCarthy said, before setting out to make a high-school movie themselves.
"There were people who had hours of advanced training in high school regarding video editing and everything else," said McCarthy, the scholar adviser for the Mount Oread Scholars as well as an academic adviser in the School of Journalism. "And then there were other people who had seen movies and that was it."
Many of the students, McCarthy said, are majoring in engineering or business.
The students, who rotated through different roles such as director, writer or editor week by week, settled on a high school romantic comedy.
"Scientists trying to be funny and romantic," was how Michael Riedl, a freshman from El Dorado, described it.
Aiming for a feature-length movie, the students proposed characters and names as a group, then proceeded to write as they filmed. The finished product is closer to a half-hour, McCarthy said.
About half of the dialogue was written and about half was improvised, said Sam Benson, an Overland Park freshman.
Golightly, Riedl and Benson each portray one of the film's six main characters, they said. The plot centers on a "new girl" at the school — Golightly's character — whose entry into an established group of friends creates crushes and complications.
"The characters' relationships with each other go like this," Golightly said, interlocking her fingers to form a web.
The whole exercise seemed like a daunting task at first, and it helped the students learn a lot about working as a group, Benson said.
"We learned about that more than, like, the qualities of a high school rom-com," Benson said.
It was a new experience, Riedl said, with each person's effort depending on others'.
"Someone had to go to a doctor's appointment in the middle of a shoot, so you would have to stop the shoot and wait for an hour," Riedl said. "No one could change their clothes."
But it was made easier, the three students said, by the fact that the group all lives together. And the learning community concept helped them make connections and friends quickly during their first semester.
McCarthy said the finished product was an impressive feat for the students, many of whom are juggling a full slate of honors courses.
Golightly agreed.
"I think it's actually pretty good," she said.
The screening at the Union will be followed by a question-and-answer session with the students involved. Admission is one nonperishable food item toward a food drive, McCarthy said.