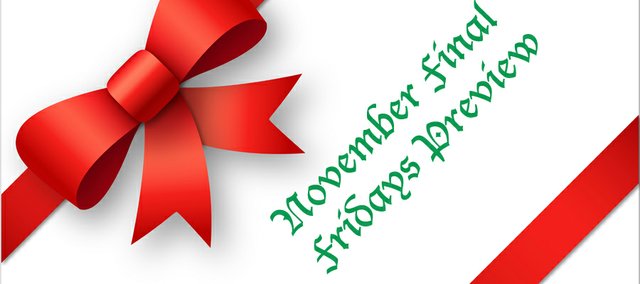 Thursday, November 29, 2012
This time of year consumers are bombarded with messages from retailers. Catalogs fill our mailboxes, fliers weigh down our newspapers and stores promise "door-busting" deals if are willing to get up early enough to stand in line. Fortunately, we can avoid all of this holiday mayhem, we can slow down and peruse an enormous assortment of gift ideas at this month's Final Friday where scores of artists have created unique and original items for that special someone.
"I think one-of-a-kind, hand-made gifts are the best gifts," says ceramic artist Ed Noonen, whose works will be on display at the Blue Dot Salon (15 E. Seventh St. #203). Noonen's new pieces, pitchers, teapots and bottles, range in price from $25 to $50, "a lot of things that pour," he says. "Like little sake sets."
Noonen is one of six artists showing at the Blue Dot this month, and all with moderately-priced works. In addition to the pottery will be jewelry from Michelle Babcock, photography from Sarah Stern, paintings from KC Jones, metal pieces and other found art constructs from artist Nick Schmeidler, and ink prints from Wyatt Rogers. All of the pieces will be on display and available to purchase through February.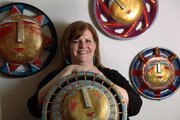 Toni Brou, featured artist at the Phoenix Gallery has something for everyone, and for every budget, including prints for $4, magnets for $3.50, and ceramic smiling sun pins for $12. Brou is perhaps best known for her suns, which are regularly featured on CBS Sunday Morning and started as a way to grieve the deaths of her father and husband. Brou likes to think of the suns and all of her work as being a "little spot of happiness, without being trite. It's uplifting but not in a saccharine way."
Brou will be on hand at the gallery to personalize any piece with a name or a word of encouragement while patrons shop.
It's always festive at the Lawrence Art Party (Hobbs Taylor Lofts) and this Friday is no exception. Performance Artist, Go-go Gertie will tell fortunes from 5 to 6:30 p.m., and music by Marianne Carter and Darrell Lea begins at 7:30. In addition, dozens of artists will be on-hand, and all with affordable works including $4 cards and $17 mugs from Lesa Weller; original card-sized paintings by Dave DeHetre; hand-painted silk scarves from Madonna Sophia for $25, and $10 photographs from John Clayton. In addition, there is a silent auction to benefit the Lawrence Art Guild and the Lawrence Community Workshop.
The folks at Wonder Fair are also encouraging consumers to "think outside the box store" with their marketplace at (803 Massachusetts) featuring handmade goods such as holiday cards, books paper goods, and vintage tin toys.
With your shopping complete, head over to the Percolator (the alley behind the Arts Center) for the opening of their show "Operation Muse" organized by artist Jenny Cook and poet Peter Wright. Cook and Wright invited poets, writers, painters and artists from every walk to experiment with new forms of expression. "A call issued to all and sundry to write assignments for another artist," explains Wright. "The assignments were then drawn from a magic hat and disseminated to participating artists."
Fifteen artists accepted the challenge and their works will be exhibited through December 17th at the gallery, although artists will perform live beginning at 7 p.m.
"As Percolator board members, we are always challenging ourselves not just to make, show, and sell art, but also to involve our community in an artistic dialogue where all are welcome to say their piece," says Wright. "I would say that this grander vision definitely informed Operation Muse."