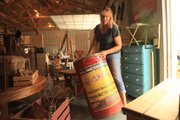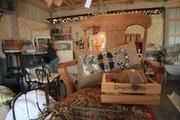 A rusted mattress spring, a vegetable strainer and black walnut end table last fashionable during the Nixon era: they're not things you want to decorate your house — that is, until Susan Theroff gets her hands on them.
Theroff is the artist and designer at Dragonfly Farm, part workshop, part urban escape on the west side of Clinton Lake, 259 N. 1250th Road in Berryton. She turns the old and unwanted offspring of garage sales and estate auctions into home decor she describes as "farmhouse chic."
"We try to do things that are a little bit different, unique, my own vision, try to bring that to life and share it with folks, try to make design affordable and something that's fun for people to use in their homes," Theroff said
She sells the items, online and from her shop, to those wanting to spruce up their homes with a modern take on old-fashioned.
"I think people appreciate re-using items. A lot of vintage items were made here in the States," she said. "That, and saving something from going to the Dumpster. There is something that is more of a return to the appreciation to the handmade."
Wardrobes, cabinets, end tables and chairs are her big sellers, but decorative items also bring in income. The vegetable strainer turns into a lamp shade. The rusted mattress spring ­— bejeweled with lights — becomes an artsy chandelier.
"I always say I'm inspired by nature, magic and dreams. My mind is constantly going. Things just hit you — sometimes you just see them exactly, and it's like, 'I know exactly what I'm going to do with that.' Nobody else understands. They say, 'You want this?'" she said, laughing.
For Theroff, it provides a paycheck as well as an artistic outlet. But it also provides something else: a family experience.
Theroff once ran an antique shop and lived Liberty, Mo., before she grew tired of "the suburban lifestyle."
"It was a lot of fun and a lot of work, but after eight years we were ready for a change. I really wanted to do something that allowed me to stay home with her (daughter Birgette, 5), and she's our only child, but yet still be able to create and design."
So now she works from home, often until the early hours of the morning, sanding, painting, sewing, upholstering and rebuilding furniture from the ground up.
"It's a lot of work, it's a lot of time on each piece that people don't necessarily see. It's a lot of dirty work — you get dusty from sanding and dirt gets in the house. It has a way of taking over your life. It just kind of spreads."
When she isn't working on furniture, she is spending time with her daughter, chauffeuring her back and forth from school as well as tending the garden and taking care of the farm's free-range chickens.
It might be a lot of work, but she doesn't do it alone.
"I couldn't do this without the help of my folks and my husband. It takes all of this to make this sort of happen."
Her parents, Torben and Jytte Klarlund, originally from Denmark, now live close by in Lawrence after falling in love with the city's "provincial" feel. Torben repairs all of her broken furniture and does any electrical work Theroff needs. And Jytte (pronounced like Utah) is Theroff's "eyes," traveling about looking for furniture with "good bones" and any other useful items. Jytte has a particular method for finding furniture.
"The uglier it is the better, so you can kind of get more satisfaction from it looking at before and after," Jytte said as she repainted a table.
All of the family help comes in handy for Theroff, as s he gears up for the Halloween and Christmas seasons.
"It's a lot of coffee and a lot of Advil right now. It's a lot of sweating," she said.
For Theroff, it's hard work and a different sort of life than living in the suburbs, but among her free-range chickens, her family and her hilltop view of Clinton Lake, Theroff said she's happy she went rural and started her new business.
"Living 20-something years in suburban life, we were ready to come back to the country. The cows across the street are our best neighbors," she said "That's what we wanted for our daughter. That kind of upbringing is great."