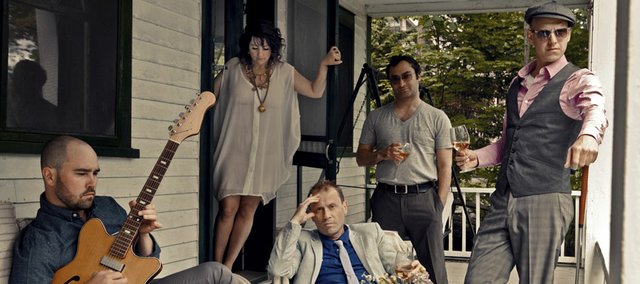 A blend of indie and pop sensibilities with influences like the Smiths and brothers-and-sisters-in-instruments Broken Social Scene, Stars is an established band out of Montreal via Toronto and New York. After albums on Arts and Crafts, their latest, "The North," came out on Soft Revolution, their own label, last month.
"The North" is nostalgic, but mature, and, according to drummer Patty McGee, came from a collective good mood in the band members' lives. The recording featured a lot of "fighting tooth and nail" but that can be a good thing when it's not personal, he says.
Ahead of Stars' Bottleneck show next week, McGee talked to Lawrence.com about moods, the Canadian anti-scene and the joy of a "real album."
Alex Garrison: How do you perceive the reception of the record so far?
Past Event
Tuesday, October 9, 2012, 8 p.m.
Bottleneck, 737 New Hampshire, Lawrence
All ages / $18
Patty McGee: I'm a little cynical sometimes but I'm trying to be less, so I think it's going well. I think the reception's been positive and that we're on the upswing. Being in this band for so long, 12 years … once you're in a band for that long, you just watch things go around and around. But we're in a good mood these days, and I think that's reflected in the way we made the record.
Personally, I was at a point after our last record and last touring cycle where I really hated music. I just didn't even enjoy listening to it anymore, which put me in a bit of a crossroads, because it's the one thing I've really relied on — a steady force in my life I'd always loved.
AG: How'd you get back to that, to the upswing?
PM: So we all took some time off. Evan and Amy had a baby, I did some traveling, just got some space. Reflected and came back. For me, it was about taking it less seriously — it had gotten to the point of just thinking about it too much. Playing music is fun, or it should be. So all of us came back in with this attitude of "I don't know what we're going to do, but we've got to have fun doing it." We hit it with a more open mind. That sounds boring and cliche, but for me it was really liberating — playing for the sake of doing it and seeing what happened.
AG: A good mood all the time? And I'm not sure I'd call it a happy mood record. It's more nuanced than that.
PM: That was just the approach. What comes out the other end, you never know. It definitely wasn't a good time the whole time. Like, we were fighting tooth and nail much of the time. There were challenges and whatnot, but everyone's outlook was a little more open. We're now into making mistakes. We'd go into a room and record all together — if someone (messed) up, then someone (messed) up. Before, things had to be perfect and precise, but in the end, that's what music is — the exploration of the mistakes. That's where the feelings and emotion come from. For me, this record sounds like people making music.
It's a pain in the ass working with five people. We really are like a family and we've always fought. In the past, some people would scream louder than others, but this time, we just screamed equally. But it was never personal, so it was actually really great. You get to the end of the fight and suddenly there'd be this sunrise. A lot of teeth-gnashing, but a lot of compromise. I think why we are so pleased with it is because everyone's got a piece in it.
AG: Is "The North" a album or a collection of songs? Or is there a difference?
PM: There's definitely a difference. This day and age, an album is — well, not an anomaly, but people listen to music differently than they did 20 years ago. My relationship with music growing up was with albums. I would buy a Thompson Twins record and have a relationship with the whole thing. That's what you do — never put on one song; it ought to be a 45-minute listening experience. Now, people don't even listen to a whole song! Let's get to the end of three minutes and then play me a new song.
AG: So do you think that's why you're pleased with this record — that it's successfully an album?
PM: Yeah, there's a symbiosis in it — everything sounds sympathetic. There's an arc to it, a beginning, middle, end. I never listen to our records but this one, I like it. It's outside of me now. It feels nice when you listen to it. I don't know if anyone cares. But for me, it's nostalgic. I like that.
AG: Stars is almost always referred to as a Canadian band or put in with "Montreal scene" bands, a lot of which you've collaborated with. Is it ever annoying to be compared like that?
PM: Well, we are Canadian. Some lived in New York, Boston, whatever, but we're definitely Canadian people. Canada has this weird thing about searching for our identity against this big, American idea, but I don't know where that comes from. It's clear to me what Canadian music sounds like — even, like, Carly Rae Jepsen, Justin Bieber, they're Canadian! There's something in our cheeks … I don't know what it is, but you can tell.
But if you want to talk about these bands that came out of Montreal — on the one hand, there is a Canadian sensibility but on the other, I don't think any of us ever thought about it. When that was going on, nobody was actively pursuing a scene. It was just a great place for lazy musicians to go and live cheaply and smoke weed. It was a great place to live, that's all. Rent was super cheap and there was a crazy cultural meltingpot — just ripe for people like myself to go and float around and party and make music. All these bands — Broken Social Scene, Metric, Stars, Arcade Fire — we're all friends. Like, these are all my neighbors. Still. We have dinner parties. We're just like-minded people and for whatever reason, people out in the world have responded positively to what we've put out.
AG: Are there any acts out now that you look to as the next wave of that?
PM: There's millions, man. It's so easy to find people, but also there's so many people out there, it's hard to find them. It is a full-time job to keep track of who's on top these days. We've got Aurora; I don't know if they've got a record out, but they're two hot tamales. That's the whirlwind we're in. I've got buddies that their aim in life isn't making a music career, but they make music and it's great! Just open the internet and the world is yours. This is how fast it's going — Azealia Banks. She got a record deal, is famous for one song. Everything's going so fast, it'll soon go backwards.
Stars plays Tuesday at the Bottleneck, 737 N.H. It's an all-ages show and tickets are $18.
More like this story on Lawrence.com