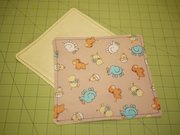 This month, I bring you a project that I've done so many times, I can't believe I haven't written about it before.
Baby washcloths are an ideal scrap-buster. The size can vary, depending on how much fabric you have. You can mix and match fabrics. And they don't take long at all.
I like to use flannel for the washcloths, at least on one side, because it's so soft. Jersey would be another good option. You can use cotton fabric to coordinate with the flannel or jersey.
As I mentioned a couple months ago, I know a lot of people having babies right now. Recently, I was making another hooded baby blanket from that column when I decided to use the scraps from it to make a couple of matching washcloths. Voila! Baby gift set.
I was able to make two large washcloths from the leftovers of the baby blanket fabrics, which were 3/4 yard cotton and 3/4 yard flannel.
You can also go with what you have — any size from about 6 inches square to about 10 inches square is a good amount of fabric to work with. The finished size will be a square 1 inch smaller than what you started with.
Supplies
fabric
ruler
scissors and/or rotary cutter
rotary cutter mat, if using
straight pins
coordinating thread
sewing machine
iron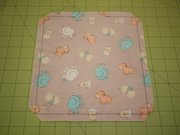 Instructions
Cut two squares of fabric to the same size, from 6 inches square to 10 inches square. A ruler, rotary cutter and rotary cutter mat can help make quick work of this, especially if you're making a bunch.

Lay the fabric right sides together and pin. These are small enough that I just put a couple pins in the middle to keep the fabric from shifting, rather than pinning all around the edges.

Divide one side into thirds — you can pin, if needed, or make a mental note. The middle section is the part you'll leave open for turning. Start at one end of this opening and stitch a 1/2-inch seam around the edges of the washcloth, stopping on the same side you started on with enough space for the turning opening.

Press the washcloth, clip the corners (cut off a triangle at each corner, without clipping the stitching, to reduce bulk) and turn right-side out. Press again.

Starting at any corner, top stitch around the edges with a 1/4-inch seam. Press once more, and you're done.
As you can see, this is pretty basic, but if you make several, it's an easy gift — and a fun one that lets you play with color and pattern combinations.
— Go! editor Katie Bean can be reached at 832-6361. Follow her at Twitter.com/LJW_Go.