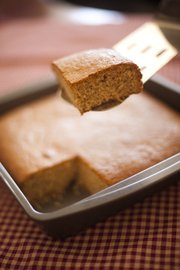 Sometimes the little annoying things in life add up to one big ball of frustration that makes you want to go, "Phbbt!"
You want a for instance? I'm writing this while sitting in a frigid house because our furnace conked out. We're out of orange juice (the horror!), and I somehow managed to get a sunburn over the weekend.
On the plus side, my kid is keeping me company, and the stove still works.
This brings us to our lesson for the day. If you don't know a massage therapist (hi, Ginny!), you can still manage to work out your emotional kinks with baking. Kneading dough is better than working out with weights; you get a nice bit of exercise and there's a pan of homemade yumminess waiting for you when all is said and done.
We're going to make a cake from scratch this time, stuffed with good-for-you ingredients and still just as simple as can be. With blueberries for antioxidants, honey for energy and the comfort factor of homemade cake, this recipe is definitely a winner.
Crank up your oven to 350 degrees and grease an 8-inch square pan.
Whenever I make this cake, I use my two-cup glass measuring cup and a medium bowl. It's not quite an all-in-one process, but it definitely cuts down on the dishes. However you go about it, measure 2 cups of whole wheat flour into your bowl. Add 3/4 cup sugar and a generous tablespoon of baking powder.
A confession: I rarely mess with measuring spoons in a lot of recipes. With a little practice, you can get pretty good at "eyeballing," and a simple coffee cake won't suffer from a tiny variance in ingredients. Use a fork to measure out your tablespoon, if you're so inclined.
Stir the dry ingredients together, and then cut in 4 tablespoons of butter. Rub the butter into the flour mixture until it's close to the consistency of cornmeal. Yes, with your hands. It's a lot easier than using two knives or a pastry blender, and it helps you work out a few of those frustrations. Just squeeze and stir the butter around in the flour until the lumps are gone.
Zap 1/2 cup milk along with 1/4 cup honey in the microwave; one minute is plenty. This is where the glass measuring cup comes in handy. Whisk in one large egg, and then stir this mixture into your flour mix until just combined. Add 3 ounces of frozen blueberries and stir to distribute.
Spread the batter in your prepared pan and sprinkle the top with a little sugar. Bake it for 30 minutes and enjoy the smells that fill your kitchen.
Unlike most baked desserts, you can eat this one almost straight out of the oven. Serve it as is or with fresh whipped cream. Don't forget to include a good book and your favorite hot beverage; this is therapy, after all.
Enjoy!
— Audrey Lintner can be reached at bitesighs@hotmail.com.