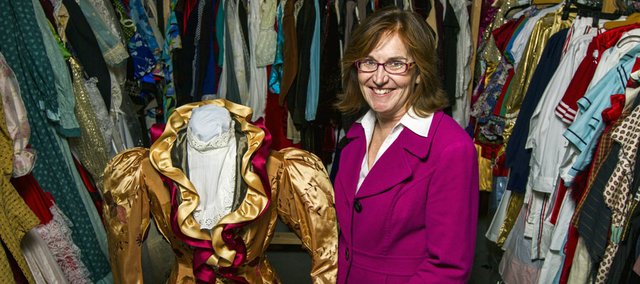 Rent a theater costume
Theatre Lawrence this year is renting out costumes for adults from its warehouse. Prices range from roughly $35 to $50, plus a security deposit.
The warehouse, 1705 Haskell Ave., Unit B, will be open the following times and days for costume rental:
6 p.m.-8 p.m. Wednesday
3 p.m.-6 p.m. Oct. 26
10 a.m.-3 p.m. Oct. 27
1 p.m.-4 p.m. Oct. 28
Envisioning a costume is one thing. Translating it from a mental picture to something you or your child can wear is another.
The resourceful, creative professionals who create costumes for Lawrence's community theaters do both. And with Halloween just weeks away, a couple of the professionals kindly agreed to share some pointers with us here at Go!
Jane Pennington designs costumes for Theatre Lawrence, including "Sherlock Holmes: The Final Adventure," "Blithe Spirit" and "The Secret Garden" in recent years. Pennington, who has a master's degree in costume design, favors historical characters and the research that goes along with costuming them.
Jennifer Glenn designs costumes for Lawrence Arts Center productions and, usually, a few lucky friends' or relatives' children at Halloween. Instead of period costumes, she prefers the type of characters that wear bright colors and have silly names.
We asked each pro to share a favorite costume or two she has created. And for those of us who aren't sewing experts, we also asked for tips to help us make homemade versions — or to keep in mind when concocting a different outfit altogether.
"There's no rules for Halloween," Glenn said. "It should be a chance to be really creative, as long as you can move in it — at least enough to get your candy."
Irene Adler
Among her favorite characters to dress, Pennington cites Irene Adler, the beautiful and witty female character from Theatre Lawrence's 2008 production of "Sherlock Holmes: The Final Adventure."
As with any historical character, Pennington started with research. Period artwork (try library books or museums) and Internet surfing are good resources, she said. Building the costume comes next.
"With a theater production, usually the first thing I do is go to our warehouse and look at what we might have that would work with the time period, and then the characters," Pennington said.
At home, that's the equivalent of shopping your closet. If you don't have the long skirt or ruffled blouse you want, try Goodwill. Second-hand stores can be great sources for pieces such as floor-length skirts and old formal or wedding gowns, Pennington said, and specialty stores like Fun and Games, 830 Mass., have cheap accessories.
For the Theatre Lawrence show, Pennington designed Adler's dresses and sewed them herself in rich fabrics. But for a Halloween costume, she said, that level of investment isn't necessary.
"For me, for Halloween costumes, the fun part is trying to be creative without spending a whole lot of money," she said. "This is a one-shot deal for a lot of people — you don't have a week's worth of Halloween parties where you can show this off. Trying to pull from your own closet and just add accessories for it is part of the challenge and part of the fun."
Sidekick: Sherlock Holmes
Some of the most iconic pictures of Sherlock Holmes show him in a deerstalker hat with the flaps tied above his head, Pennington said. A vest, a pipe and maybe a walking stick would be great additions.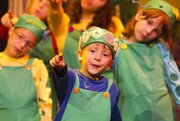 Oompa-Loompas
This spring, Glenn was tasked with transforming actors from kindergarten-age through adults into Oompa-Loompas for the arts center production of "Roald Dahl's Willy Wonka."
She put them in overalls, T-shirts with screen-printed shapes on the sleeves and striped socks she'd been collecting — many from Target — since the previous summer. Oompa-Loompas were allowed to decorate their own pill-box hats with pipe-cleaners, flowers and sequins, something Glenn said she likes to allow for children at Halloween, too.
"I always think it's fun to do what a kid wants as opposed to what a parent does," she said, explaining that most any creation makes a fine Halloween costume if the child is excited about it.
To avoid sewing and screen-printing at home, overalls can be fashioned with felt pieces cut and pinned into the shape of a bib with suspenders, and shapes can be stuck on with double-sided tape or iron-on adhesive. On the feet, any silly sneakers would do, Glenn said.
Sidekick: Characters from the Chocolate Factory
Augustus Gloop could wear a lederhosen (or homemade felt overalls) with a pillow for a belly. Willy Wonka could wear a thrift-store suit coat, cut short and finished with duct-tape trim and felt tails. Accessorize with a scarf for a tie, a decorated top hat and a golden ticket.
Clarinet
Glenn said the clarinet from "The Runaway Orchestra," previously performed by the Seem-To-Be Players, was a personal favorite design.
The Tuba and Violin costumes that went with it would be tough to tackle at home, she said, but the clarinet's long slender shape is more easily replicated. She sewed a series of hoops inside a padded costume with appliquéd keys, but you could get a similar effect with a black vest, long straight skirt, folded-down witch hat and silver paint, taped-on felt or even duct tape for keys.
"Go online and look at a clarinet, and start taping away," Glenn said.
Sidekick: Musician
Classical musicians typically perform in black dresses or tuxedos. And at Halloween, makeshift is always OK.

Last-minute costume ideas from your closet
Do not — we repeat, do not — be the person who shows up to a Halloween party with no costume.
Here are some ideas for using items you probably have at home, or can buy for $10 or less, to turn a business suit or little black dress into a bona fide Halloween costume.
Business suit
Superman T-shirt + dark-rimmed glasses = Clark Kent
mustache + bowler hat + cane = Charlie Chaplin
balloons + fake check = Ed McMahon prize patrol
sunglasses + laser pointer = Men in Black
gun (fake, for safety) + martini = James Bond
cash = Wall Street trader
Black dress
high bun + pearls + cigarette = Audrey Hepburn in "Breakfast at Tiffany's"
headband + fringe pinned to hem + Mary Jane heels = flapper
white apron + feather duster = French maid
glasses + script + blazer = Liz Lemon from "30 Rock"
sky-high heels + entourage = a Kardashian
fake tattoos + pouty lips = Angelina Jolie
pointy hat + cape + broom = witch
ears + tail = black cat
— Features reporter Sara Shepherd can be reached at 832-7187. Follow her at Twitter.com/KCSSara.