Saturday, October 20, 2012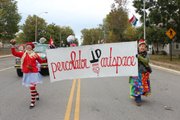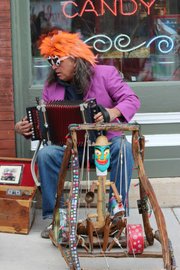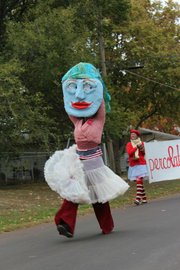 Looking to infuse rural areas with the art and community spirit for which its Rhode Island Street alleyway home is known, the Percolator Artspace is taking its show on the road.
The Percolator's new Douglas County Arts Caravan took free paper art, giant puppets, bucket drumming and a photo booth to EudoraFest earlier this month and will appear next in Baldwin City this Saturday. If its creators can fine-tune the concept and find the right grants, they'd eventually like to pop up in rural communities throughout the state.
Organizers say they tossed around the idea for a few years but the disbanding of the Kansas Arts Commission fast-forwarded plans.
Douglas County Arts Caravan
Next stop: Baldwin City
The Douglas County Arts Caravan will be at the Lumberyard Arts Center, 718 High St. in Baldwin City, on Saturday.
Art activities begin at 10 a.m., with a paper-making workshop at 11 a.m., a rubber-stamp-making workshop at 1 p.m. and a bucket-drumming workshop at 2 p.m. Other activities include paper flower construction, scarecrow making, the "What makes you happy?" photo booth and music.
The caravan visit coincides with Lumberyard's kickoff of its Ken Kraushaar photography exhibit.
For more information and photos of the caravan, visit facebook.com/
percolator.artspace.
"This is our response to that," says Rachael Perry, the Percolator's chairwoman of the board. "How can we, as artists and community members, ensure there's creativity happening ... for all ages of people?"
Lawrence's arts community is large, active and wary of state funding cuts. But Perry says she and others worry cuts could affect arts in small communities even more sharply.
The caravan's call for artists included musicians and general "glee-makers," says Michael Bradley, who leads its bucket-drumming workshops.
About 10 people traveled in the caravan to Eudora, where their silly costumes and noisemaking were a hit in the parade and their setup drew families and children who didn't want to leave, Bradley says.
Besides workshops for paper molding and bucket drumming, participants were invited to answer the question "What makes you happy?" on a piece of paper, put on a costume of their own and pose with it in the caravan's photo booth.
Among other artists, musician Tommee Sherwood played his accordion and the Boogalator, a percussion puppet instrument he created.
"Engaging people like that to share what they're doing with other people is part of the whole thing," Bradley says.
But the caravan isn't only about glee.
Partly inspired by the Depression-era Federal Art Project, the project also aims to make an economic impact, albeit on a smaller scale. The caravan provides jobs, paying stipends to lead artists, Perry says. Volunteers are rewarded with Lawrence Farmers' Market tokens to spend in the community, in turn helping local farmers.
Bradley adds that the caravan wants to use funds to employ people to "do what they do."
"Artists should be getting paid," he says. "It is work — it's artwork."
Like the Percolator, 913 Rhode Island St., the caravan relies on grant money, volunteers and community partnerships.
A Douglas County Community Foundation grant funds most of the effort, Perry says. The Social Service League Thrift Store donated a pair of angel wings and other items for costumes. And Cottin's Hardware and Rental lent a truck.
Children in Eudora walked up and asked how much activities cost, Perry says, and that's where the Percolator's "art for everybody" mission was fulfilled.
"Just to be able to say it's free feels so good," she says.