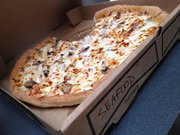 Seafood pizza is not-so-unusual fare in Europe. (At least in this reporter's recollection from a French college cafeteria, one often-served specimen was a thin-crust round with marinara and baby octopus on top.) The Seafood Elite is a similar idea but Americanized all the way — it's fettuccine alfredo with shrimp, but on crust instead of noodles, and with mozzarella, red onions and mushrooms.
Where to get it: Minsky's Pizza, 934 Mass.
What you'll pay: $18.99 plus tax for a large
Try it with: An appetizer like garlic cheese toast, or add extra toppings of your choice.
Also on the menu: Hot sandwiches, calzones, big salads, pasta and other gourmet specialty pizzas such as the Philly Cheese Steak, the Tostada, the Mediterranean and the Chicken Cordon Bleu.
Restaurant website: minskys.com/lawrence
— Off The Beaten Plate highlights some of the more exotic, oddly named or inventively concocted (for better or worse) dishes from local menus. Know of an offbeat menu item we should check out? Email food and features reporter Sara Shepherd at sshepherd@ljworld.com. Tweet her at Twitter.com/KCSSara.