Photo Gallery
Behind Lens - Choosing black and white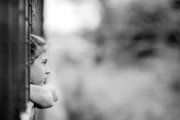 A few area photographers exhibit some of their favorite black-and-white images.
I invited area photographers to submit some of their favorite black-and-white images for this week's column and photo gallery. I asked, Why use black and white?
Reasons for documenting a subject in gray scale instead of color were varied, as were the techniques in creating the monochromatic images. Some photographers use traditional black-and-white film. Others shoot color digitally and then convert to black and white. Regardless of the subject, each photographer feels moved to reveal it in shades of gray for specific reasons.
Kent VanHoesen, a former Journal-World photographer, and Richard Gwin, a current staff photographer, both worked in black and white in the '70s and '80s. Kodak's Tri-X was the norm and provided photojournalists the flexibility of documenting subjects in a variety of lighting situations not possible with color. For Gwin, it wasn't an aesthetic choice — it was the only way to capture basketball action inside Allen Fieldhouse. For VanHoesen, black-and-white film not only enabled low-light imagery but also could reveal a distinct and magical contrast between dark and light.
"Black and white is like a well-written novel," VanHoesen says. "It leaves something for the imagination."
Digital technology now enables the photographer to shoot in color and convert to black and white. Photographer Steve Smith enjoys capturing color photographs on his iPhone and then uses apps to convert to black and white.
About his photograph of a fence and barn, he says, "I chose to eliminate color from the photo to emphasize the geometry and grain of the wooden fence and barn. Both are historical artifacts, and the monochromatic black and white seems to emphasize timelessness and eternity to me."
Photographing inside a deserted building, Patrick Emerson says, "only with B/W can you convey the loneliness and sense of isolation which I felt."
Learning about photography in a traditional darkroom, Doug Stremel has always been drawn to monochromatic images. But the benefits of digital are obvious for him.
"The nice thing about shooting digital is that I always have the option to use color or black and white," Stremel says. "Some images just don't work in color, and converting to black and white makes the image work really well."
The darkroom tradition inspires many photographers to work in black and white.
"I never lost the sense of magic I had watching images appear in the developer under the amber safelights," says photographer Rick Mitchell. "A good printmaker can make gorgeous, sensual pictures in silver or platinum, to be sure, but the basically monochromatic palette yields an abstraction of reality that focuses the mind and gets straight to the point."
We'll consider fall color for my next column, Nov. 4, and you can submit your favorite autumnal photographs to me at myoder@ljworld.com.