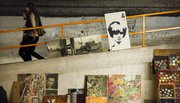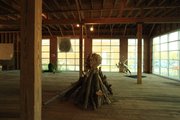 Warehouse Arts District galleries
For a list of Warehouse Arts District galleries open during this month's Final Fridays event, 5-9 p.m. Friday, visit finalfridayslawrence.wordpress.com.
Matthew Burke's Kansas University art students were creating the sculptures for class anyway — giant 3-D portraits of sorts, with heads based on real people and finished with mixed-media to suit.
The unique "window in time" at the Warehouse Arts District enabled "Flash Space Heads" to become a show, with an ample home and even foot traffic.
"It's so important that our sculptors, in particular, are confronted with an overwhelming sense of space," Burke says of the gaping Flash Space gallery at 830 Pennsylvania. "Our classroom was just too small to really make these things come alive."
The district's developer has pledged to maintain the previously mostly abandoned swath of East Lawrence as a neighborhood for art creators, art viewers and other creative professions. But until buildings are finished and filled with more permanent tenants, artists are putting their creativity to work in the vast, raw spaces.
Artist Erok Johanssen and fellow Fresh Produce Art Collective members rent the basement of 826 Pennsylvania, which they've dubbed Seed Co. Studios. Down an industrial concrete ramp, about a dozen artists have studio space and wall space to display their work.
Johanssen knows upstairs won't be vacant forever, but in the meantime his group is using it for music events, extra studio space and even a giant graffiti wall for artists who need a diversion from their work.
"Anytime somebody's feeling like painting, you can just go up there and blast on a big scale," Johanssen says.
Development on a roll
Tony Krsnich is a partner in the Poehler Loft Apartments, which opened this summer at 619 E. Eighth St., plus most of the buildings in the 800 block of Pennsylvania and about half a dozen empty lots. He says he gets multiple calls a day from creative types inquiring about opportunities in vacant buildings.
"When we developed the Poehler building, turning the entire area into something was not on our radar," Krsnich says. "But this overnight sensation and the creation of a Warehouse Arts District is, in all honesty, a complete surprise to us and obviously our absolute first and foremost dream."
Douglas County has approved a 10-year tax rebate for the project, Krsnich says, and the city has begun upgrading streets. Sidewalks on Pennsylvania aren't passable, and at a recent Final Fridays event, there was only one working streetlight on the block. But Krsnich says he's confident the city will improve those problems, too.
So far, plans include a gallery and event space in the Cider Building, 810 Pennsylvania, with an "entrepreneur port" upstairs. Krsnich says he's talking to an established artist and a film company about moving into 720 E. Ninth St. He'd love to have an "arts bar," deli or boutique grocery move into the Flash Space building. The ground level of the Seed Co. Studios building is plenty big for industry, but that's not what Krsnich is looking for there.
"We want to have as many artists and as many creative entrepreneurs in the district as possible," he says. "Kicking the artists out and putting in an industrial facility or something, I'd never do that."
Krsnich likes housing the Fresh Produce collective and welcomes the temporary activity members help arrange in the vacant space.
"They're definitely making the most of it," he says.
'New energy'
Scott Trettel bought 846 Pennsylvania last fall and says he is planning additional upgrades. His Trettel Design + Build offices are in the lower level, and the Invisible Hand Gallery uses the upper level for Final Fridays shows.
"Most of the occupancies and most of the uses going on down here are really temporary," Trettel says. "We enjoy the fact that there is new energy in the neighborhood and renewed interest."
Fresh Produce's core members formerly worked and displayed art at Lost Art Space, in the old Penny Annie's location on Massachusetts Street. Before that, Johanssen says, they worked out of garages. The collective's polished, "white-wall" Lost Art Space gallery is now at 825 Massachusetts, and their new studio space in the Warehouse Arts District has room for twice as many artists as Penny Annie's did.
During the September Final Fridays event, Burke — aiming to capitalize on foot traffic from neighboring galleries — stood at the Flash Space door and invited passers-by to check out "Heads."
Burke says he understands that a raw space open for pop-up art installations wouldn't be a big money-maker for a developer.
But still, he says, it would be neat.
"If it were me, I would always keep a little something for an opportunity like that," he says.