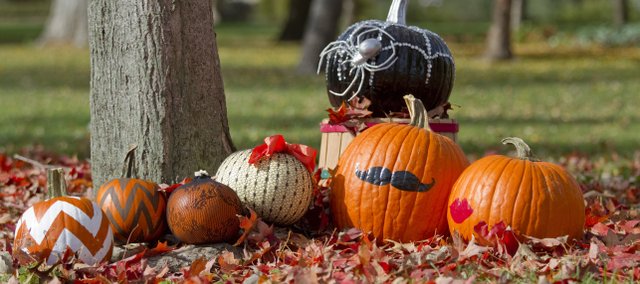 Jack-o'-lanterns are popular at Halloween for good reason. They have a lot of character, they're fun to make, and they glow.
But like any vegetable, cut-open, un-refrigerated pumpkins can get messy and moldy, and they don't last all season.
For a cleaner and longer-lasting alternative, there are endless no-carve options, from basic to blingy. Go! scoured Pinterest boards and magazine websites and picked a few of our favorite ideas to make and share.
We used real pumpkins on our crafts — we like the personality. However, artificial pumpkins would work for all these crafts, too. And instead of lasting through just this season, your handiwork will last year after year.
SPARKLY
BLACK WIDOW PUMPKIN
You'll need:
One pumpkin
Black glossy-finish spray paint
Silver metallic spray paint
Clear plastic jewels or rhinestones
Large fake spider
Hot glue gun and glue sticks
Directions:
Spray two coats of silver paint onto spider and pumpkin stem, allowing to dry between each coat.
Spray two coats of black paint onto pumpkin, allowing to dry between each coat. (Tip: Use a toilet paper tube to shield stem.)
Use hot glue to apply rhinestones in a web pattern.
Use hot glue to stick spider to pumpkin. (Tip: If the glue doesn't hold, drive a slender nail through the spider into the pumpkin.)
More sparkly pumpkins
Metallic pumpkins — Spray paint pumpkins in silver, gold or bronze.
Cinderella pumpkins — Spray paint pumpkins white or pastel colors, then add glitter and other embellishments such as rhinestones and artificial tendrils and leaves.
Gilded pumpkins — Apply gold or other metallic leaf in patterns of your choice.
FACES
MR. AND MRS. PUMPKINS
You'll need:
Two large pumpkins
Black and red acrylic craft paint
Paintbrushes
Directions:
Using a pencil or light-colored marker, outline a mustache on one pumpkin and lips on the other. (Tip: If you're not comfortable free-handing, search online for a template to print out and trace.)
Paint a black mustache on one pumpkin and red lips on the other, applying a second coat of paint if needed.
More pumpkin faces
Mummy-kin — Partially or completely wrap a pumpkin in gauze, tucking a pair of large plastic googly eyes in front.
Pumpkins in Disguise — Place small, inexpensive plastic Halloween masks and hats on a group of pumpkins.
"Nightmare Before Christmas" — Channel Jack Skellington by spraying one coat of white paint on a round pumpkin, then adding eyes, nose and mouth with black paint.
PAINTED
CHEVRON PUMPKINS
You'll need:
One or more pie pumpkins
Painter's or narrow drafting tape
Spray paint or acrylic craft paint
Directions:
Wrap pumpkin stem in tape.
Use additional tape to create a chevron design encircling the stem. Repeat one row at a time. (Tip: Apply a complete circle of overlapping strips of tape in a zig-zag pattern, then use scissors to trim edges into points.)
Spray or brush two light coats of paint onto pumpkin, allowing to dry between each coat.
Carefully peel tape from pumpkin. Use a razorblade to cut through paint if it sticks to tape.
More painted pumpkins
Pumpkin Monogram — Freehand or stencil a single large letter onto a pumpkin.
Wordy Gurdy — Spray paint multiple pumpkins white, then paint or use black stick-on letters (one per pumpkin) to spell a word. Perfect for a mantle or buffet decoration.
Candy Corn pumpkins — Spray-paint top of pumpkin white and bottom yellow, leaving orange stripe in between.
TEXTILE
STOCKING PUMPKINS
You'll need:
One or more small pumpkins
Patterned black stockings or tights
Scissors
Clear elastic bands
Ribbon (optional)
Directions:
Cut the leg off a pair of stockings, or if using knee-highs or thigh-highs, cut off the top elastic.
Pull the cut-off stocking over the pumpkin, putting the toe area on the bottom.
Wrap an elastic band around the stocking at the stem and trim the excess with scissors.
Tie a bow on the stem with ribbon (optional).
More textile pumpkins
Boo-Button pumpkin — Glue on black buttons in the shape of the word "Boo." Tie a black-and-white-patterned bow around stem.
Creeping Lace — Paint pumpkins a color such as mint green. Paint stems black. Use Mod Podge to apply black lace cutouts.
Ribbon mini-pumpkins — Secure a narrow, patterned ribbon around about a dozen mini pumpkins. Display in a large bowl.
But wait, there's more!
Go! made four pumpkin designs for this story, then added a few more ideas in each category.
For pictures of the extras — plus links to instructions and even more ideas (some creatively carved ones were too cute not to include) — see our "Pumpkins and More Pumpkins" Pinterest board at Pinterest.com/LJWorld.
We must also confess, we had one definite pumpkin-craft fail. To see it — plus tips on how to avoid our mistake and other potential mishaps with these designs — see features reporter Sara Shepherd's blog, "Succotash." For chronic craft-failers or people who are too busy for this stuff (nothing to be ashamed about), Go! editor Katie Bean also shares store-bought kit options that do the decorating for you.
However you decide to decorate your pumpkin, share it with us and other readers in the decorated pumpkins of Lawrence photo gallery.