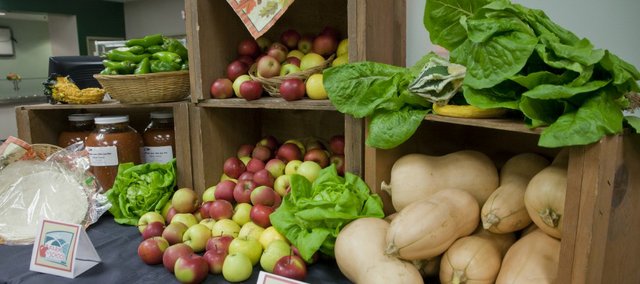 Tuesday, October 23, 2012
The menu for the Lawrence school district's upcoming farm to school lunch originally called for, among other vegetables, peppers.
But unlike produce shipped from distant, always-summer climates, local food is dependent on local weather. And an early October frost means local schools won't be serving as many peppers as planned.
"We have to work with what we get," said Lindsey Morgan, registered dietitian and district food service supervisor.
The district has planned Thursday's mostly local lunch to celebrate statewide Farm to School Week. While some Lawrence schools occasionally incorporate local food into student meals, the lunch is the first such districtwide effort.
State agriculture secretary to visit Eudora for Food Day lunch
Kansas Secretary of Agriculture Dale Rodman will celebrate Farm to School Week with a visit to Eudora Wednesday.
Rodman was scheduled to join Eudora school board members and Douglas County officials on a tour of the Eudora school district's garden and culinary center. The group will also hear presentations from the district's food service representative and superintendent about Farm to School initiatives there, said Mary Geiger, communications director for the state department of agriculture.
Rodman and other officials also were scheduled to enjoy a 45-percent local lunch with students.
Wednesday is Kansas Food Day, which the state describes as an effort to promote well-balanced, nutrient-rich eating habits; support all Kansas farmers and ranchers; continuously improve agricultural production; and reduce hunger in Kansas communities.
More on farm to school
For more information on the state's farm to school guidelines, visit the Kansas State Department of Education website. U.S. Department of Agriculture Farm to School guidelines also are online.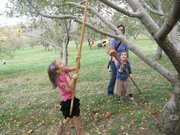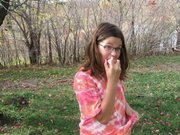 While the Kansas departments of agriculture and education are promoting and providing guidelines for districts statewide to serve local meals this week, state officials said as of Monday that Lawrence and Eudora were the only districts that had confirmed plans with the state to do so.
Seasonality, delivery methods, availability of large quantities and compliance with nutritional guidelines are all factors that can make serving local food more challenging for schools than, say, ordering in mass quantities from corporate distributors.
"We are trying to get as much local as we can," Morgan said. "But we feed over 6,000 meals a day, so trying to get quantities is something that we've been trying to work through."
Foundation for growth
This year the Lawrence district's local offerings have included watermelon, green beans, squash and lettuce, though they were served in select schools because there wasn't enough to serve districtwide, Morgan said. Some schools also serve items from their school gardens, again as quantities allow.
While both Lawrence high schools have docks for large deliveries by truck, local food may arrive in a different type of vehicle, Morgan said. Once produce arrives, it may have unique storage requirements — right now, at Free State High School alone, there are 250 pounds of squash and a pallet of apples awaiting Thursday's special lunch.
Morgan said the Farm to School program's current goal is to learn more about those factors, as well as seasonal availability of produce, and "continue to grow from there."
The program officially started in 2010 with a grant from LiveWell Lawrence that designated a farm to school manager, who also is the kitchen manager at Schwegler School. She laid groundwork by researching policies, networking with farmers and creating food safety guidelines.
Even with fewer than expected peppers, Thursday's districtwide lunch will have a spicy flavor. The menu includes savory butternut squash and black bean burritos, made with local squash and tortillas baked in Kansas City, Kan.; chicken fajitas; apples from Fieldstone Orchard in Overbrook; lettuce from Lecompton; salsa made in Baldwin City; black beans and salad.
While the special menu cost more to put together than a typical school lunch, Morgan said, students will pay the same price as usual.
Hands-on learning
Jackie Stafford and other Cordley School parents have organized weekend or after-school fruit- and vegetable-picking field trips for the past couple years.
With district approval, she said, some of that same produce made it into lunches in the Cordley cafeteria.
On Sunday, a group of Cordley students picked apples at Fieldstone, and while they took home those apples, the trip was planned to show them where the apples that will be on their trays Thursday came from.
Stafford said her children, a fourth-grader and a kindergartner, have had many opportunities to visit farms to see where their food comes from, and she is hopeful her efforts will give other children that chance, too.
She also said she supports local foods both from nutrition and business standpoints.
"It just makes so much more sense, if we've got enough food around here, to be supporting the local food economy," she said.
Prior to the farm to school program's official formation, Linda Cottin, who runs Cottin's Hardware Farmers' Market, helped organize some of the first local food lunches at Cordley.
Like Stafford, she agrees that the more children know about where their food comes from, the better. She'd like to see the program grow.
"It's baby steps," she said. "And it needs to move slow ... the supply up to where the demand is can't happen overnight."