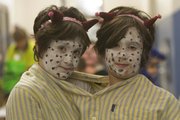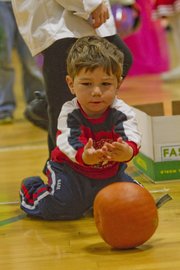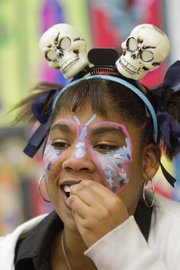 For most children, Oct. 31 is a hyperactive day of costumes, candy and jack-o'-lanterns.
While many Lawrence schoolchildren will have a special school day on the 31st, replete with Halloween parties and parades, several local schools have adapted their October celebrations to allow for broader participation and appeal.
Lawrence public school district does not have an official policy about Halloween celebrations.
"We leave it up to each school to work with the staff and parent groups to decide what to do," says Julie Boyle, school district spokeswoman.
Because of that policy, the public schools take a wide range of approaches to the holiday.
Seasonal celebrations
This is the first year that there will be no classroom parties on Halloween at Cordley School, 1837 Vermont. Instead, because of cultural sensitivity, the school has moved the focus away from holidays for all of its school parties, choosing to do service projects and put on parties in celebration of the projects.
"Halloween doesn't fit everyone's culture, and we need to embrace our whole community," says Kelly Rettig, Cordley kindergarten teacher. "This conversation about Halloween started five years ago. We recognized that we've had a lot of growth and change in our community, and we have become more of a global community here at Cordley."
Cordley's Community Service-Learning committee collaborated with the PTA board and Cordley staff to create an alternative reason to celebrate.
The school conducted a food drive in October to help fill the food pantry at Cornerstone Baptist Church, 802 W. 22nd Terrace, which provides BackSnacks, a backpack of food for low-income children to take home Friday afternoons for the weekend. Classrooms had parties Oct. 18 to celebrate the food drive's success and also embrace the fall season with pumpkins and apples.
Woodlawn School, 508 Elm, also chooses not to have Halloween classroom parties. Instead, the school's PTO put on its third annual Family Fun Fall Festival the evening of Oct. 18 for students and their families to gather and celebrate the season. Many children chose to wear costumes to the party, but the activities, such as a pumpkin roll and pie decorating, were not Halloween-specific. Classrooms had fall parties during the school day Oct. 19.
"I've been here seven years, and we haven't done Halloween. That way, we're not excluding kids who don't participate," says Jeanne Fridell, Woodlawn principal.
Raintree Montessori has longtime traditions that have been adapted from Halloween customs to fit all students. On Oct. 31, students from preschool through elementary school carve pumpkins in their classrooms, which they light and display in the afternoon.
The elementary school students dress in costume as someone from history or literature as a culmination of a research project, and then their fellow students try to guess who they are dressed as. They also do a parade to the preschool classrooms and tell the younger students about their characters.
"The older the students get, usually the more obscure the costumes become. You never know who might walk in the door," says Leanna McReynolds, Raintree director. "For some kids, they will have two costumes: one they wear in the neighborhood and one they wear here."
Like McReynolds, Cordley's Rettig notes that teachers and administrators cannot put on blinders to holidays that are as visible as Halloween.
"We are not explicitly teaching holidays, but we will explore them because they are part of our environment," Rettig says. "Some children have no idea what Halloween is; we're exposing them to it."
Halloween celebrations
Quail Run School has put on a traditional Halloween costume parade since it opened in 1988.
"After lunch on the 31st, all of our students who want to will dress up and go outside," says principal Debbie Tann. "We always have a huge crowd; in the past we've had up to 300 parents, and some of the parents who come also dress up. Then, the classes have a Halloween party with snacks and some type of activity."
Tann says little has changed over time with the Halloween celebration, except for the snacks.
"We have implemented a wellness program in the school, so now children need mostly healthy food with just a little fun food," Tann says.
Corpus Christi Catholic School holds classroom parties on Halloween for all students, and preschoolers and kindergarteners do a parade through the school in their costumes. Older students are allowed to "dress down" and not wear their school uniforms that day.
"It is always about the kids, and kids love Halloween. We are embracing the innocence of what the holiday is, while keeping it reasonable and sensible," says Corpus Christi principal Mary Mattern. "We make sure they know it's a celebration."
Even some of the smallest Lawrence children get in on the Halloween festivities. Hilltop Child Development Center at Kansas University spreads the Halloween spirit to other buildings on campus, taking costumed children, ages 1 to 5, trick-or-treating on Halloween morning in adjacent buildings, such as the law school and athletics facilities.
"Quite a few of the teachers dress up, as well," says Gina Byrd-Stadler, Hilltop's interim director. "The kids love it when they see that their teacher is dressed up."