Lawrence writer Kelly Barth details a struggle between fundamentalist Christianity and the alternative sexuality it abhors in her memoir, "My Almost Certainly Real Imaginary Jesus."
She knows the battle well. It took place within her, as well as in church and relationships.
Barth, growing up in Raytown, Mo., in the 1970s and '80s, craved the energy and certainty of fundamentalist Christianity.
From her first glimmers of sexuality as a child, Barth also knew she was attracted to females.
Barth writes about the conflict with humor.
"I look back with affection and a sense of irony," she says. "I see a sweet but bungling comedy of errors. At my healthiest, I've always seen the world that way."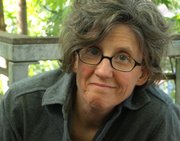 Book launch
"My Almost Certainly Real Imaginary Jesus" will be available from publisher Arktoi Books, Amazon.com, Barnes & Noble and the Raven Book Store, 6 E. Seventh St. in Lawrence. The Raven will host a launch party, open to the public, at 7 p.m. Friday.
One of Barth's earliest memories, she writes, is her family telling her that "Jesus is everywhere."
She recalls as a 3- or 4-year-old, searching the house for Jesus, imagining she might find him "like a lost dime, cloaked and sandaled, tiny as a foil-covered chocolate Easter egg forgotten in a lampshade ruffle.
"I thought that if I were very still and actually did see my tiny Imaginary Jesus, he might crawl onto my hand and let me pet him."
As Barth grew up, this imaginary but in some ways real-to-her figure helped her navigate the conflicting influences.
The desire to write also pulled on her.
"As a girl, I watched "The Waltons." John Boy, the writer, fascinated me," says Barth, who earned her bachelor's degree in creative writing and journalism from the University of Missouri-Kansas City.
She recalls her first attempt at an autobiography at 10 years old, clacking away on her dad's old Underwood typewriter.
"I wrote two lines, then decided it might be better to wait," Barth says laughing.
From high school creative writing classes to becoming a fiction fellow in the creative writing program at the University of Montana, Missoula, Barth says writing has always given her the most pleasure.
"I knew from an early age it was what I would like to do," she says.
Since then, Barth has honed her craft with stories in literary journals and anthologies, and has been awarded fellowships from the Missouri Arts Council and Kansas Arts Commission.
She writes freelance, including for Go! in Monday editions of the Lawrence Journal-World. She's worked as a technical writer and editor for engineering firms, and as a graduate teaching assistant at KU and the University of Missouri, among other writing and teaching jobs.
Barth settled in Lawrence in late 1992, after completing the writing program in Missoula.
Meantime, she says, the story of her struggle and the real-but-imaginary Jesus who helped her through it longed to get out. Barth worked on the memoir on and off for 10 years. Her first draft counted a ponderous 600 pages.
The finished product, which was released Saturday, is a slim paperback of 248 pages. Advance notices from other authors have called "My Almost Certainly Real Imaginary Jesus" funny, beautiful, poignant and heartbreaking.
Barth says she faced many fears and demons in the effort to get it written.
"It's told straight from my own perspective," she says. "Let the chips fall where they may."