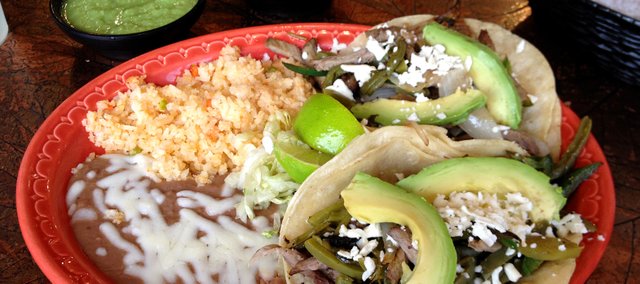 Tuesday, September 4, 2012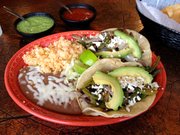 Tacos de Nopales
There's a lot piled into the two tacos of Entree No. 36, the namesake being slices of peppery-tangy grilled nopales — or prickly pear cactus pads (prickly parts removed, of course). Joining the nopales are steak strips, grilled fresh jalepeños, onions, avocado and crumbled queso cotija, a salty white Mexican cheese.
Where to get it: Tortas Jalisco, 534 Frontier Road
What you'll pay: $9.99 plus tax for an entree with rice and beans.
Try it with: A squeeze of fresh lime, and an order of Tortas Jalisco's fried-to-order, specially seasoned, 100-percent corn tortilla chips.
Also on the menu: Various tortas (Mexican sandwiches), chilaquiles, Yucatan-style specialties, Mexican breakfast items and mezcal from restaurant owner Angel Alvarez's hometown in Jalisco, Mexico.
Restaurant website: mexicanrestaurantlawrenceks.com
— Off The Beaten Plate highlights some of the more exotic, oddly named or inventively concocted (for better or worse) dishes from local menus. Know of an offbeat menu item we should check out? Email food and features reporter Sara Shepherd at sshepherd@ljworld.com. Tweet her at Twitter.com/KCSSara.