Monday, September 17, 2012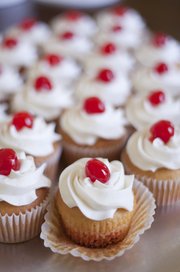 Hi, folks! We're gonna step up our skills next month, but we've got one more super-simple recipe to celebrate the end of summer.
These cupcakes are a nod to my favorite bar beverage, the Shirley Temple. Yeah, I'm a cheap date, but you'll never catch me with a lampshade on my head.
Not as intensely flavored as the syrup-laden drink, the baked version is subtle enough for grown-up palates, yet sweet enough for the younger set. The younger set at our house thinks that these should be dinner every night. One batch makes about 24 cupcakes.
Heat your oven to 350 degrees and line your cupcake pans with baking papers.
Separate a box of white cake mix (no pudding added) into two equal portions, roughly 1 3/4 cups each.
To the first portion, add 1 large egg, 1 egg white, 2 tablespoons of oil, and 1/2 cup lemon-lime soda. Blend on low speed for 30 seconds, then medium speed for 2 minutes, scraping the bowl frequently. Use a rubber spatula, not your hands.
In a second bowl, combine the rest of the cake mix with 1 large egg, 1 egg yolk, 2 tablespoons of oil, and 1/2 cup grenadine syrup. Resist the temptation to drink straight grenadine. Blend as for the soda batter and admire the pretty color.
The grenadine batter will be noticeably thicker than the soda batter. Don't panic; it's supposed to look like that.
Divide the grenadine batter evenly, about 1 1/3 tablespoons per cupcake liner. Spoon an equal amount of the soda batter into each cup, carefully spreading it to the sides.
Bake the cupcakes for 20-22 minutes, or until the tops spring back when touched with a cautious finger. Cool in the pans for 5 minutes, then transfer the cupcakes to a baker's rack and stick 'em in the freezer.
While the cakes chill, put 24 maraschino cherries between layers of paper towel to drain and dry.
About 20 minutes before serving, pull the cupcakes from the freezer and slather them with your favorite buttercream frosting. Top each with a cherry and prepare to wow your guests.
You can easily intensify the cherry kick in these cupcakes by adding a touch (or 12) of grenadine to your frosting, or you can squeeze in a bit of lime juice and have cherry limeade cupcakes.
If you should happen to thin out your frosting with too much liquid, there's an easy fix: Stir in a spoonful of cornstarch! It'll perk up your frosting without altering the taste, and it'll save you countless minutes of rummaging through the cupboards looking for the powdered sugar.
I'd like to thank my super crew of volunteer test bakers this month, so let's give a round of applause to Elizabeth M., Kathy W., Maggie D., Melinda D., Sarah B., Tom B., Tricia C. and Yolanda S. for all of the great feedback and encouragement. The baking community always rises to the occasion.
Enjoy!
— Audrey Lintner can be reached at bitesighs@hotmail.com.