Thursday, September 20, 2012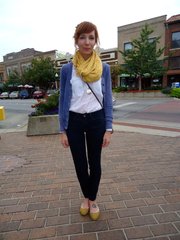 Name: Kelly Flanigan
Age: 21
Relationship status: Taken
Hometown: Minneapolis
Time in Lawrence: Five years
Occupation: Retail
Dream job: Working for Fish and Wildlife
What were you doing when scouted? Just got done eating dinner
Describe your style: Neutral colors. I typically wear dresses.
Fashion trends you love: Boots and sundresses
Fashion trends you hate: Leggings as pants
Fashion influences: The outdoors. Nature is a big influence.
What would you like to see more of in Lawrence? Better camping
Less of? Sweatpants
Tattoos or piercings? A dandelion on my shoulder, a peace sign on my foot, and a nose ring
Who do people say you look like? Michelle Williams
Tell us a secret … I'm obsessed with owls.